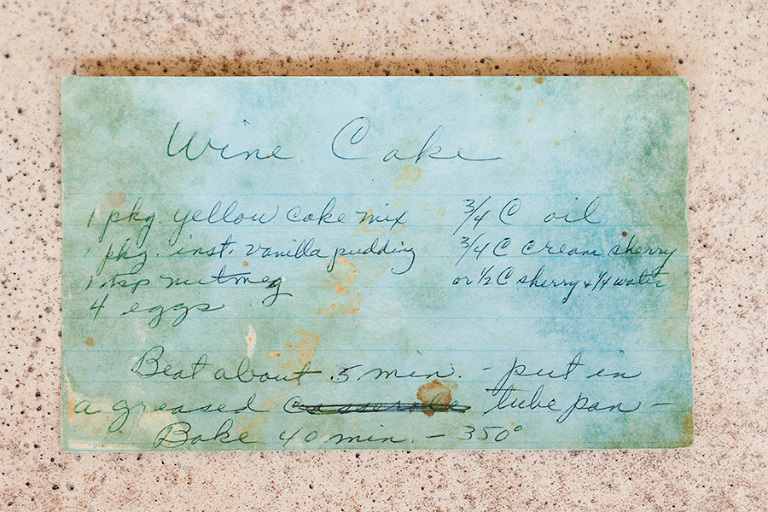 The blue index card is covered with flour, batter, grease.  The edges are bent and the pen is fading.  But it is in her writing.  Her recipe in her handwriting.  Seeing this cards brings back memories of my grandmother as much as any photograph I have.
I am a fan of keeping recipes on the computer.  Less clutter in my kitchen, less stuff to move around every 2 years.  But how do you part with handwritten recipe cards that hold memories of your childhood?  I fought with that for a while and have come up with a solution that works for me.  I am slowly but surely taking pictures of the old tattered and stained recipe cards and adding them to my digital collection of recipes.  All of the sentimental value with none of the clutter. Perfect.
And I can make sure that I make wine cake the way it should be.  Perfectly moist, just sweet enough, with a slight crunch of sugar on the outside.
Ingredients:
-1 package yellow cake mix
-1 package instant vanilla pudding
-4 eggs
-3/4 cup oil
-3/4 cup cream sherry
-1 teaspoon nutmeg
Directions:
-Preheat the oven to 350°.
-Grease a bundt pan with butter or Pam spray.  Gently add a few tablespoons of white sugar to the pan, and swirl around to coat the butter / spray.  Shake out the excess sugar.
-Mix all of the ingredients in a large bowl.  Using a hand mixer, mix on medium-high for 5 minutes.
-Pour batter into the greased and sugared pan.
-Bake for 40 minutes.
-When the cake is finished, turn the bundt pan upside down on a dish and gently tap to release the cake.