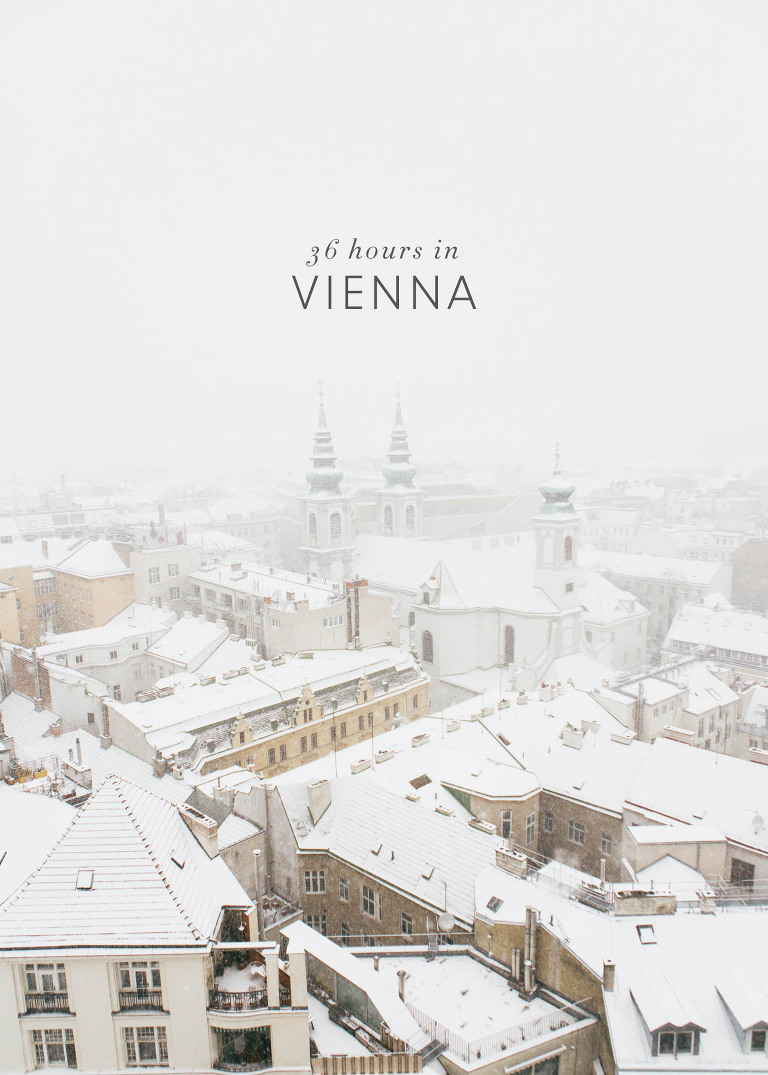 One of my favorite sources for travel inspiration is the New York Times 36 hours travel column. I love the succinct, approachable itineraries, showing you how to see the world, one weekend at a time. The 36 Hours Europe book has a permanent home on our coffee table, and we all (even the kids) love to flip through it daily.
I have also taken quite a few suggestions from this book when planning our weekend trips. But I wondered what it would be like to follow one of their itineraries exactly. Would it work? Would you see enough of the city?
I decided to try it out, using the Vienna Itinerary, and following everything exactly as it is written in the article. The only change would be that I would sleep at home, instead of at the recommended hotels.
First check out the NY Times Itinerary, then keep reading as I spend 36 hours in Vienna, New York Times style!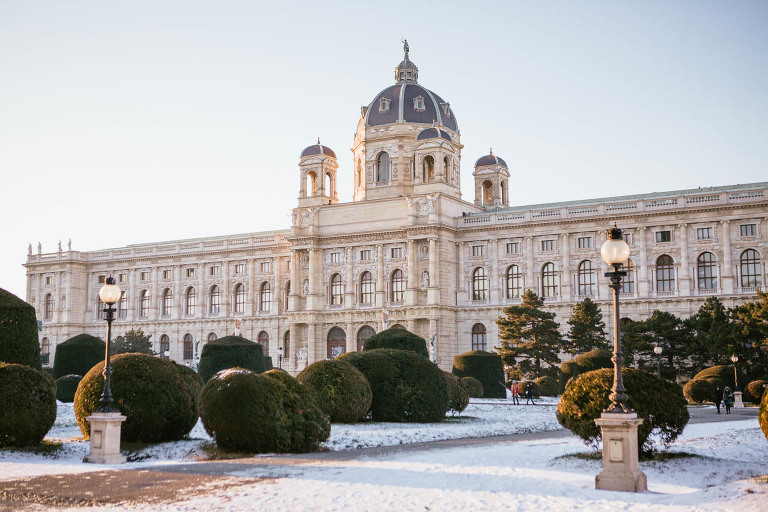 FRIDAY
Meet the Habsburgs | 4 p.m.
It is Friday afternoon, and I am standing in Maria-Theresien-Platz, so excited to start my 36 hours in Vienna. Although we go to the Naturhistoriches Museum all the time (we have season passes) I have yet to visit the Kunsthistoriches Museum. I buy my ticket (€15) and dive right in.
The exhibits are all very interesting, but the star of the show is definitely the actual building, which is quite impressive, and worth the entrance fee itself. There is something so nice about wandering around a museum on a cold winter day, and one hour isn't enough to see everything I want to see. I finally force myself to leave at 5:30pm.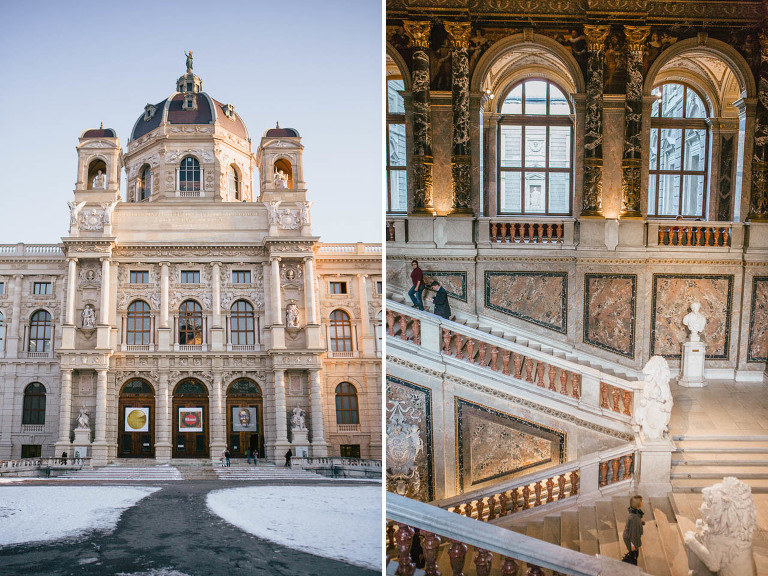 Contemporize | 5 p.m.
It is a 15 minute walk from the Kunsthistoriches Museum to Schleifmühgasse, so I arrive at Georg Kargl at about 5:45pm. I wander in and out of all of the art galleries, admiring the minimalistic works. The sparse interiors of these galleries are such a stark contrast to the Viennese grandeur that I have become accustomed to. There are some really cool collections on display, but after about 40 minutes, I am done and ready to eat, which works out well since most of the galleries close by 7pm.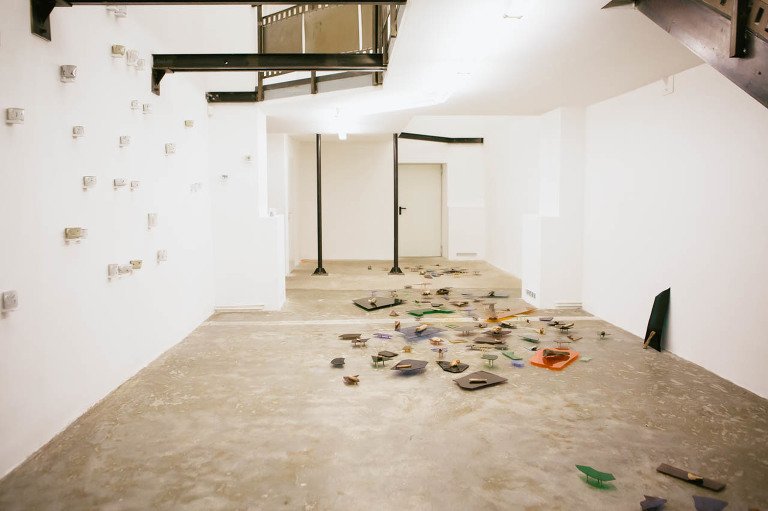 The Viennese Table | 8 p.m.
It is pretty cold by this point, so I take public (59A to 13A) to Gastwirtschaft Steman, arriving just before 7pm. I have never heard of this place, so I am happy to try it out. From the outside it doesn't look like much, but I walk in and the place is hopping, with a reserved sign on every vacant table. (Be sure to make reservations several days in advance!)
I sit and have a bowl of hot Wiener Suppen (clear broth with noodles, beef and vegetables) to warm up while I wait for my husband, who is meeting me after work. We order the Wiener Schnitzel and the Goulash, our two favorite traditional Austrian dishes. The portions are huge and very tasty.
The only drawback of our meal is the abundance of smoke everywhere, but it is hard to find a restaurant anywhere in Vienna that isn't smokey. Dinner for 2, €50.
Off the Leash | 10 p.m.
After a long work week, partying until 2am is not going to happen. So we skip the cocktails and head home. If Dogs Run Free will have to wait until another night.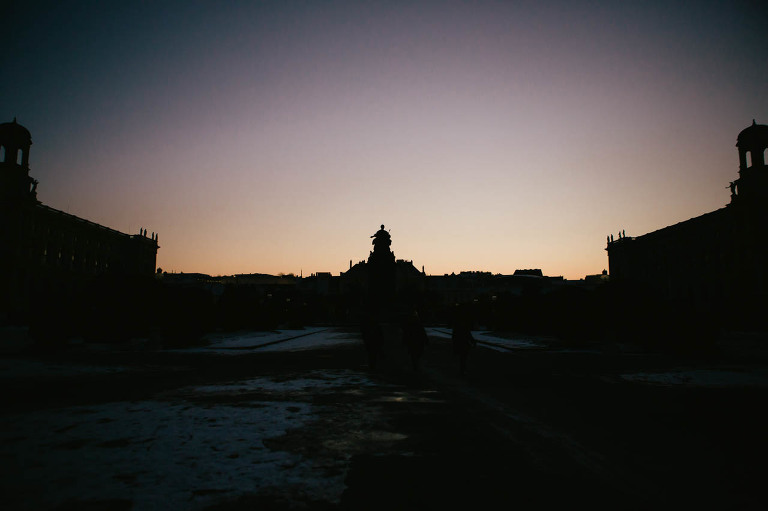 SATURDAY
The New Informality | 10 a.m.
Ulrich is a super hip little spot in Ulrichsplatz, and is already packed at 10am. I wasn't able to get reservations, as they only offer seatings at 9am or 11am. Luckily there is room at the bar, so we sit down right away.
I order the Breakfast Sandwich, which has eggs, bacon and gouda cheese served on my favorite Josef brot, with cucumber, tomato and a small green salad on the side. To drink I have the green machine smoothie, made with pineapple, banana, spinach, apple, ginger and romaine lettuce. Everything is delicious, and the food comes out quickly, which is always nice when I have a full day ahead. (The Viennese don't seem to appreciate quick meals as much as I do!) Breakfast for 2, €30.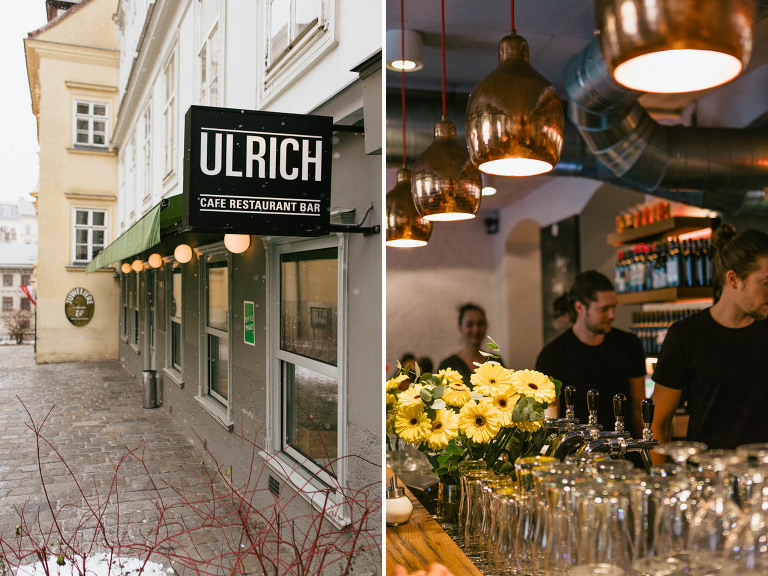 Sweet Style | 11:30 a.m.
It is just before 11 when we step out of the restaurant into the fresh falling snow. We skip the vintage clothing shop right next to the church since it isn't open yet, and head straight to Neubaugasse. I love the shops along this street, and wandering in and out of them without any agenda is such a treat.
Bootik 54 is great for hipsters, or anyone looking to buy white converse, plaid flannel shirts or vintage roller skates. But I spend much more time in nearby Kerala Ayurveda Shop and Inner Space. And I love any excuse to go to Daantje and Lalekula, which are all both full of kids goods from some of my favorite designers.
I step into the recommended Jugendstilgalerie Neubau and walk right back out (save your time and don't bother with this stodgy place with rude employees) and instead continue on to Wald & Wiese, which smells heavenly.
Before leaving Neubaugasse, I turn down Lindengasse to stop into Shanti Yogastore, which is one of my favorites in Vienna.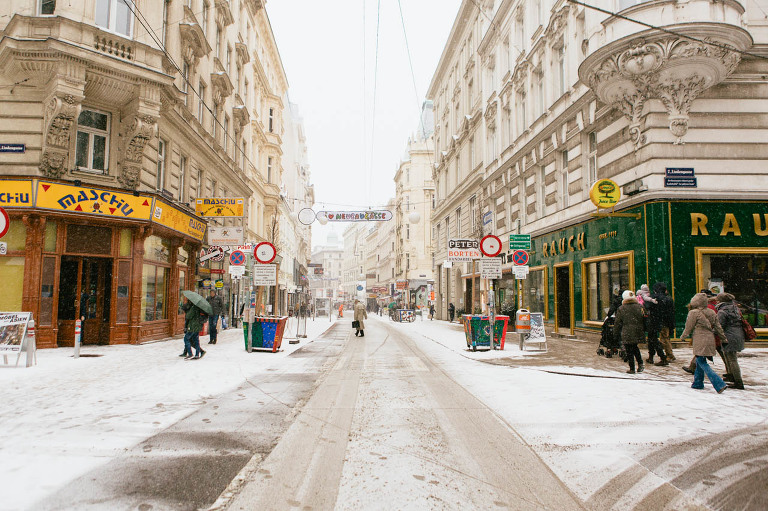 Imperial Luxury | 12:30 p.m.
I have never even thought of visiting the Hofmobiliendepot Möbel Museum Wien, because a museum of furniture just doesn't seem all that interesting. But it's on the agenda, so in we go. (Tickets, €9.50)
What a pleasant surprise! It is fascinating to learn about how the many Habsburg residences were only furnished while they were actually occupied, and see the immense collection of furnishings. It takes just over an hour to see the entire museum, and by 1:45, we are on our way.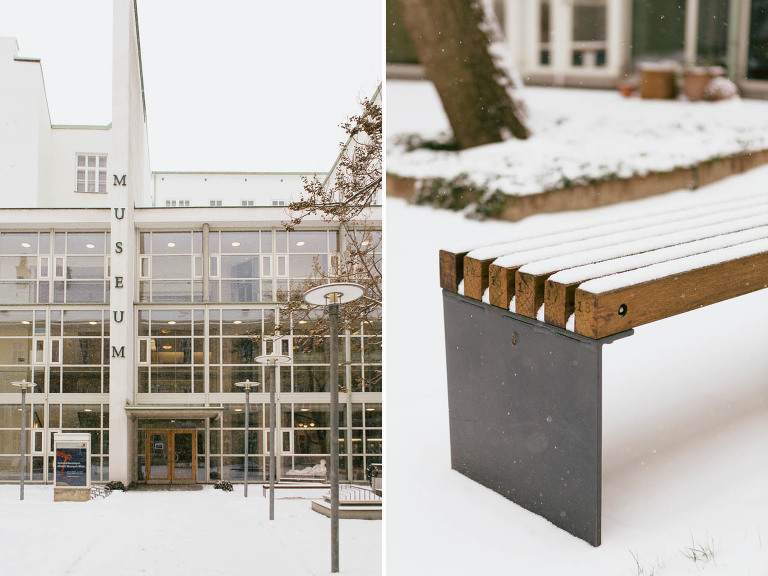 We leave the museum and head toward Gumpendorfer Strasse, making a quick detour at the Haus des Meeres. I head straight to the top floor terrace to see the city blanketed in white from my favorite lookout point. The entrance fee for the aquarium is €16.70 per person, which is rather high for a 10 minute visit, but we have season passes, so it seems like a good idea since we have to walk right by anyway.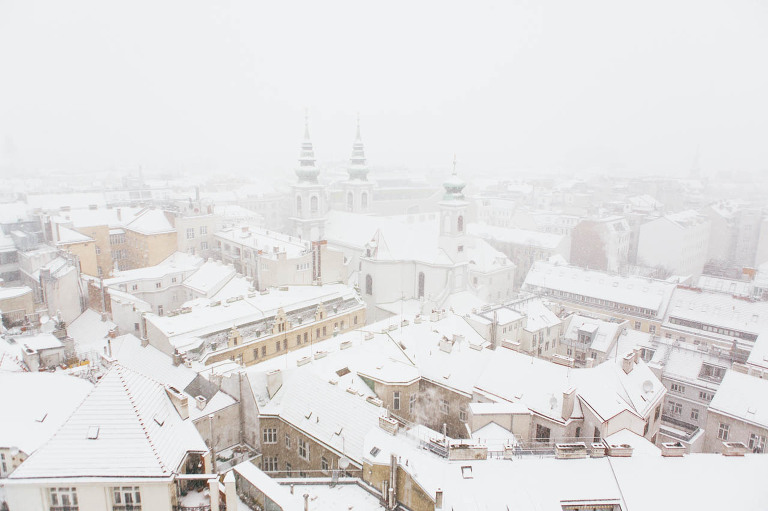 Hot Buns, Holistic Beauty | 2 p.m.
We have eaten at Mama Liu and Sons many times, and it never disappoints. At 2:30pm, there is no wait for tables, so we sit right down. We order hot soup and dim sum, which is plenty after a big breakfast not too long ago. But if you are hungry, the shabu-shabu is excellent! Lunch for 2, €30.
After lunch we stop in St. Charles Apotheke, which is one of my favorite little shops ever. Filled with all types of holistic remedies, natural skincare and beauty products and organic bulk herbs, I could spend all day here. And I love that every product comes in beautiful, minimalist packaging.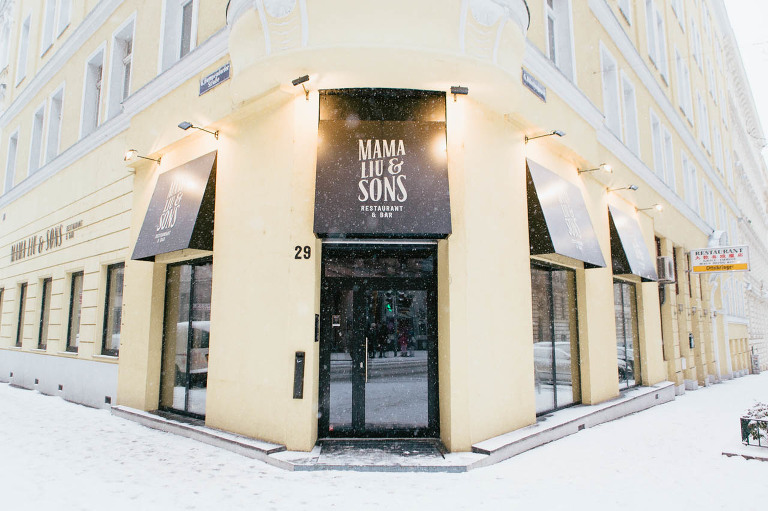 Back to School | 4 p.m.
Wirtschaftsuniversität Wien is quite a trek from Gumpendorferstrasse, so we jump on the U-Bahn at about 3:30 and arrive right at 4pm. It is quite interesting to see the modern architecture and design of the buildings on this campus, but I am not sure that it is how I want to spend part of my 36 hours.
There are so many things in Vienna that I would rather see and do. Maybe my lackluster attitude has to do with how hard it is now snowing, and how cold I am? Either way, I cut my time at WU short and head to the next destination.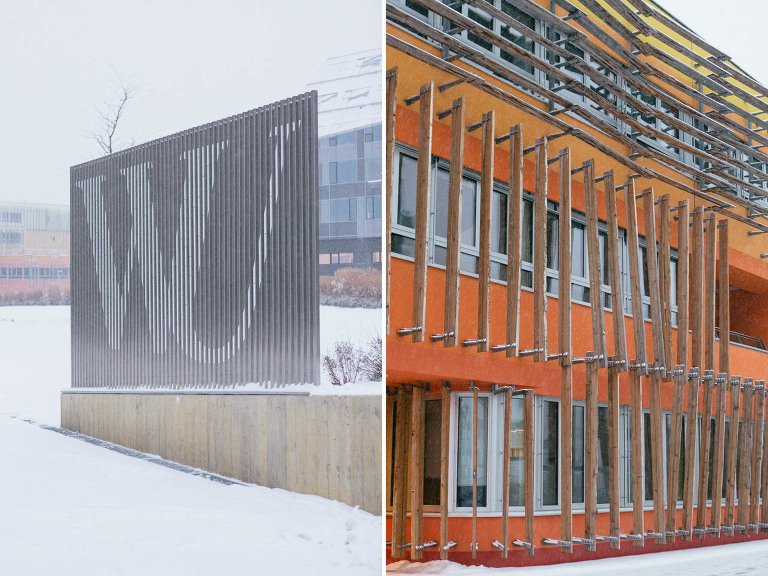 When You Feel Down | 5:30 p.m.
From WU, I jump back on the U-Bahn for a few stops, and arrive at Song at about 4:30pm. After a few minutes browsing in this stylish little fashion boutique, I am done and ready to move on. It seems silly not to go straight to dinner, since I am less than half a block from the Sofitel, but after walking around all day, I want to shower and change into a nicer outfit. So I head home for a quick break.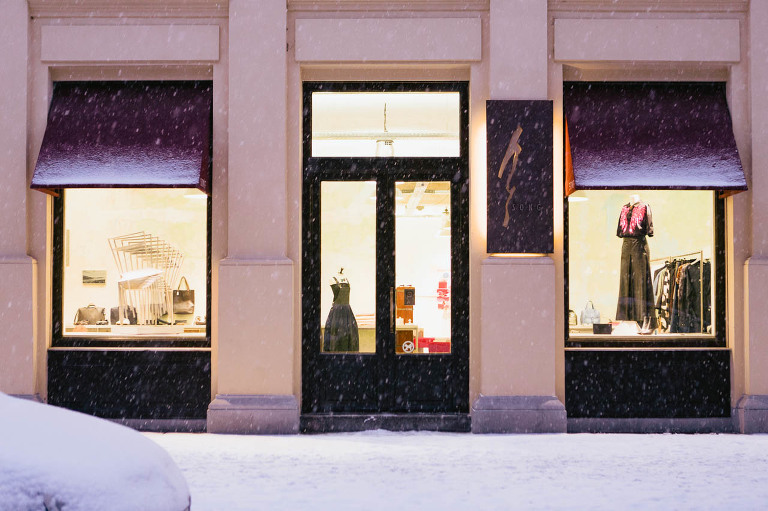 Cathedral View | 8 p.m.
Das Loft has been on my bucket list for ages, so I am happy for an excuse to finally go. The restaurant is on the top floor of the Sofitel Hotel right on the Danube Canal, and has an amazing view of Stephensdom and all of the 1st district.
The four course tasting menu is tempting, but the dishes are a surprise, and neither of us are adventurous enough to go for it. I order the lobster with risotto and my husband orders the steak. The steak is amazing, and the portion size is perfect. The lobster and risotto is equally delicious, but I could probably eat triple the amount that is on my plate.
We both have a wonderful time, and decide we would love to come back in the summer when we can watch the sunset over the city. (Be sure to make reservations several weeks in advance, especially for a Saturday night!) Dinner for 2, €160.
SUNDAY
Push and Glide | 9 a.m.
After heavy snow all day yesterday, we are pleasantly surprised to wake up to beautiful sunny skies. Finally something on the itinerary is kid-friendly, and my girls are excited to join in on the adventure. So we bundle everyone up and head to the Wiener Eistraum.
This is the most magical ice skating rink, set up directly in front of the Rathaus. There are a few different rinks, plus trails winding all through Rathausplatz. We head to the kids skating rink, where little ones can skate using penguins for balance. The little kids rink is actually free, so we only pay to rent skates. (€7 for adults, €4.50 for kids, and toddler skates are free!)
It is nice to be here first thing in the morning, when there aren't many people, but I would love to see it in the evening, all lit up with twinkling lights. (Reservations are only required if you want to reserve a lane for curling.)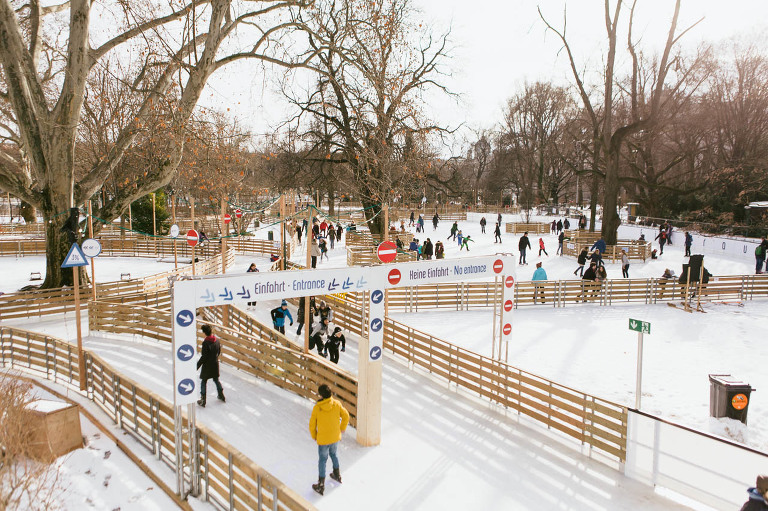 Chocolate Revenge | 11 a.m.
It is such a beautiful day, and the kids are having so much fun that we don't have the heart to make them leave to go stand in line to eat at one of the most touristy restaurants in all of Vienna. Especially when there are so many great little food stands set up right in Rathausplatz. (It feels like a mini Christmas market, minus all the ornaments!)
So we break off from the itinerary and eat here. By noon, we are all done ice skating and have gotten our fill of treats, so we head home, exhausted and happy. This was the perfect ending to our 36 hours in Vienna.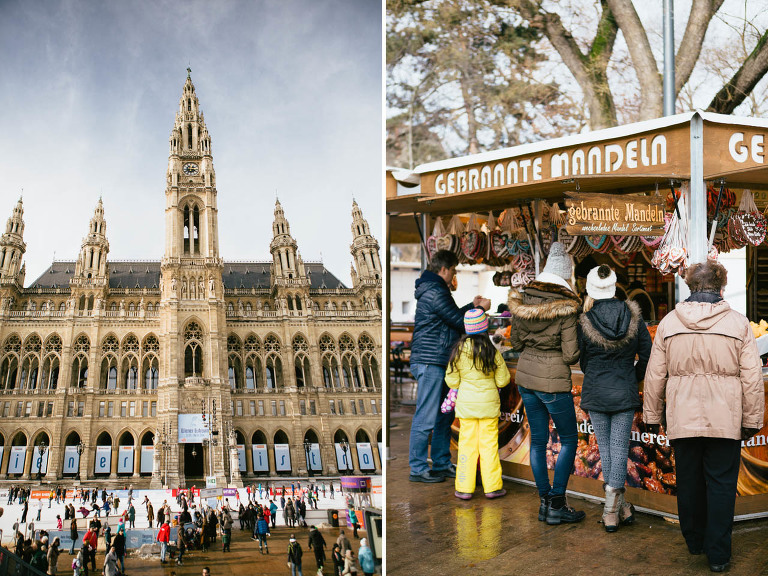 36 Hours in Vienna | Final Thoughts
Overall, I had a great time. I have been wanting to set aside time to be a tourist in my own town, and this was a great way to do it. It was an excuse to revisit a few of my favorite places, and discover a few new gems that I would never have visited if it weren't for this experiment. The restaurant suggestions were great, the prices were accurate, and the times allotted for each activity were sufficient. And this itinerary steers very clear of the normal tourist traps, which is always good.
But if this were my only time spent in Vienna, I would have missed a lot.
Much of this itinerary is focused on the trendy 7th district, which is great, but I would have preferred a bit more variety. In just 36 hours, it is impossible to cover everything, but I probably would have skipped Wirtschaftsuniversität Wien and Song, and instead spent Saturday afternoon in the 1st district seeing some of the famous Viennese landmarks. And I would have added in an early morning walk around the Ringstrasse on either Saturday or Sunday. But one of my favorite things to do while traveling is to get up early and walk around with my camera, and I know a lot of others prefer to sleep in on vacation.
So my final verdict? I will continue to use the 36 hours column as travel inspiration, and take recommendations from it for restaurants and things to do on our weekend trips. But pre-made itineraries aren't for me. I really enjoy researching before we travel, and finding my own hidden gems in every new city.
What do you think? Do you like following pre-made itineraries, or do you prefer to do your own research? Or are you someone who likes to fly by the seat of your pants, and go to a destination without any plans at all?