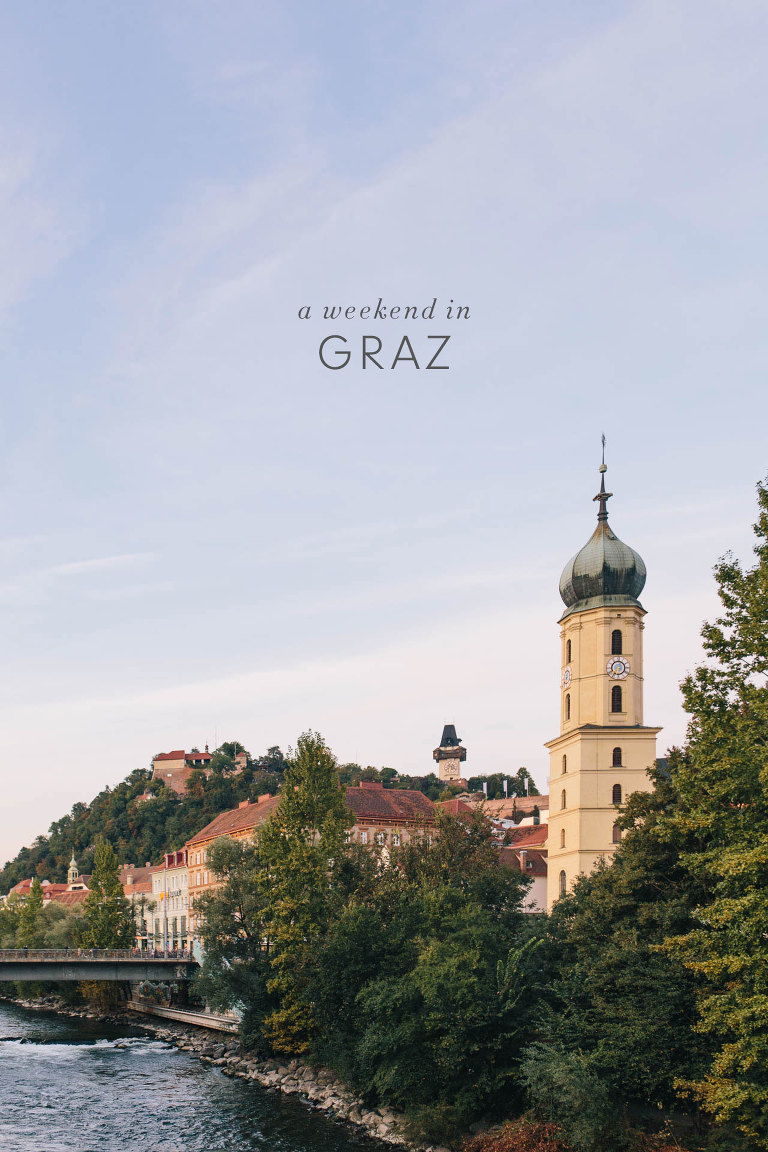 Graz may be the second largest city in Austria, but it is often overlooked for smaller Austrian towns such as Salzburg, Innsbruck, or Hallstatt.
But what Graz lacks in popularity, it makes up for in charm. The historic center of Graz (which is an UNESCO World Heritage Site) is filled with winding cobblestone streets, tall pastel-colored buildings, and cute squares. It has an undeniably hip vibe, with tons of art shops, design stores and trendy restaurants. Plus, in 2003, Graz was awarded the European Capital of Culture and in 2011, it was designated the UNESCO City of Design.
If you are looking for a fun and easy weekend trip from Vienna, don't overlook Graz! There is plenty to do to fill an entire weekend, and you will be pleasantly surprised by how family friendly it is.
TRAVEL
Graz is just over two hours away from Vienna by car. If you don't want to drive (or don't have a car), Flixbus is a convenient and inexpensive way to travel between the two cities, and buses run every 2 hours. If you prefer to travel by train, there are direct trains every hour between Vienna and Graz, and it costs just a bit more than the bus.
EAT
Speisesaal  |  In the uber hip Hotel Wiesler, this restaurant manages to be both stylish and kid friendly at the same time. Not something we are used to seeing, but so wonderful if you are in Graz with kids. And the food was absolutely delicious. The kids both got the kinder burger, which is just a mini version of the cheeseburger from the regular menu. After trying a bite, I want to come back again and have one all to myself!
Der Steirer  |  This restaurant is well-known for their Styrian tapas, but I think the real star of the show is the Backhendl (fried chicken). Another family friendly find with great food.
Kunsthauscafé  |  The cafe outside of the Kunsthaus is apparently the place to be on a sunny Sunday afternoon, because it was packed. But what a great place to sit and enjoy the nice weather. Great food, fun people watching, and you can combine your lunch with a trip to the Kunsthaus museum.
Tagescafe Freiblick  |  On the rooftop of the popular Kastner und Öhler department store, this cafe has an amazing view of both the clock tower and the red roof landscape of old town Graz.
SLEEP
Hotel Zum Dom  |  Right in the center of town, just a block from the Graz Cathedral, the Hotel Zum Dom is housed in a palace that dates back to the 14th century. It retains many of the original details of the palace, making it a very unique and memorable place to stay. The family room is huge, with two bedrooms and two bathrooms, great for if you are traveling with children!
Check the latest prices on:  Booking  |  Hotels.com  |  Agoda
Read reviews on:  TripAdvisor
SEE & DO
Schlossberg  |  The Schlossberg is the giant mountain right in the middle of Graz, loved by locals and tourists alike. At the top of the hill is the 28 meter high Uhrturm, or clock tower, which has is a landmark of Graz, and a great place to see the entire city and surrounding mountains. The self-guided walking tour is a great way to see everything on the Schlossberg hill in a short amount of time, and it gives any little ones ample opportunity to run and play.
There are a few different ways to reach the top of the hill. For a quick and easy way up, you can take the funicular, the Schlossbergbahn, or ride in the Schlossberglift, which is an elevator that goes right through the mountain. But if you want a bit of exercise and a beautiful view, climb the 260 steps of the Kriegssteig, which was built during WWI to connect the historic old town with the Uhrturm.
Fairytale Express Train Graz  |  The Grazer Märchenbahn is a little train that runs through the tunnelsystem of the Schlossberg, while telling fairytales. It is only in German, but my daughter still really enjoyed it. If you go, remember to bring a jacket, even in the summer, as it was pretty chilly. Also, they don't recommend it for kids under 4, because it can be a little dark and scary.
Kunsthaus  |  Locals affectionately call this building "The UFO" or "The Friendly Alien" because of it's unique outer appearance. But it has become an icon of Graz, and the blinking lights from the domed exterior is quite captivating at night. Inside you will find a wonderful modern art collection, and great photography exhibits.
Styrian Armory  |  The Landeszeughaus is the world's largest historic armory, with over 32,000 objects including all different types of weapons and armor. Everything is lined up in perfect order, as if it were ready to be used in battle. This is super impressive to see, even if you aren't into weapons. Even the kids enjoyed walking through the 4 floors of the Landeszeughaus.
Murinsel  |  This floating island in the middle of the Mur river was designed by American artist Vito Acconci in 2003, to commemorate Graz's recognition as the European Capital of Culture. Located on the shell shaped island is an amphitheater for special events, and a cafe that is open all day and night. It is especially beautiful at dusk when it is all lit up with blue lights.
SHOP
Lendplatz Farmers Market  |  Monday through Saturday mornings, stroll through this neighborhood farmers market to find all sorts of local goodies. Since 1945, farmers from the area have been selling produce, meat, cheese, breads, pastries flowers and more on Lendplatz in Graz. Don't miss the Styrian specialty: pumpkin seed oil.
MORE
This was a very quick trip, and we only stayed 1 night in Graz. But we had such a nice time, we spent the drive home wondering why it took us so long to make it to this charming little city. We will return soon, and hopefully visit the places we didn't have time for this weekend, such as the Fred & Frida Children's Museum, Schloss Eggenberg and the Austrian Freilichtmuseum in Stübing.
Looking for more Travel Guides?

This trip was coordinated by Graz Tourismus, but all opinions, photos and recommendations are my own.