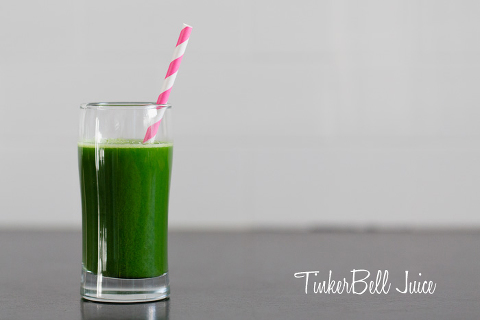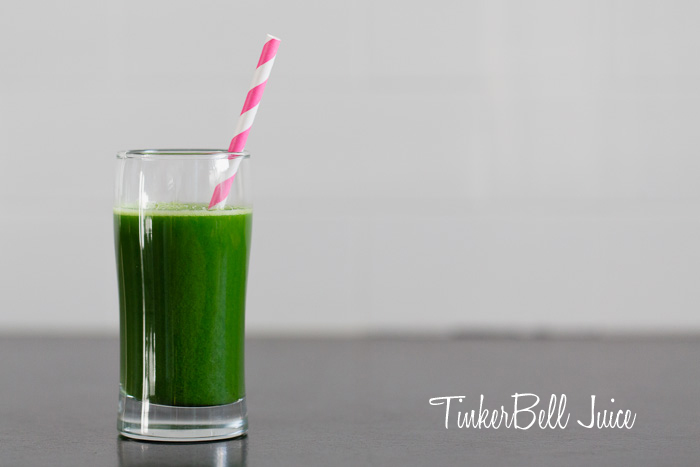 Don't you love eating at restaurants where your food looks like a piece of art, beautifully prepared on the plate? Or buying something that comes in the most divine packaging, so unique that you can't bear to throw it away? And I don't even drink coffee, but it seems to me that part of the allure of Starbucks is the fun names that all of their drinks have. It's all in the presentation!
So why do we slap boring healthy food on a plate and expect our kids to eat it and like it? We need to present it well. Put it on a fun plate or in a cute glass, with fun accessories, and for sure give it a good name. Which is how the Tinker Bell Juice came to be.
We are in a huuuuge princess phase over here. I don't like it, I don't promote it, but I do exploit the heck out of it when I need to.
You don't want to wash your hands? Oh, because princesses always wash their hands.
You don't like this green juice I made? Well, did you know that its actually called Tinker Bell Juice, and she made it green just like her?
Yes, it works every single time.
So back to the Tinker Bell Juice. It is so easy and actually pretty delicious. You add equal parts pineapple and kale to the juicer. Taste it, and adjust quantities of each, if necessary. Put it in a nice glass with a fun colorful straw and tell them that Tinker Bell made it. They will gulp it down and ask for more. If you have a little one who isn't into princesses (lucky!!) you could also call it leprechaun juice, turtle juice, frog juice, or anything else that will get your kids to drink it. Sell it!