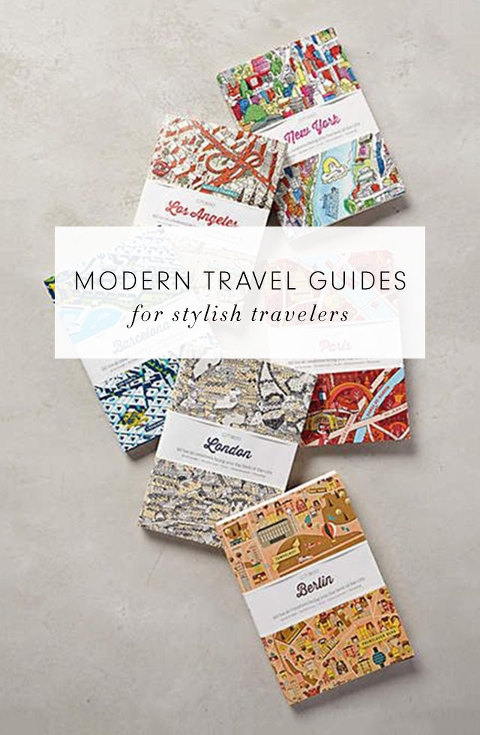 You may think you don't need actual travel guides anymore, since you can get just about anything you need from a quick search on Google or Pinterest. But these modern travel guides are so beautiful and stylish, you may just change your mind!
Beyond just looking good, they are also filled with great tips on the best places to go and things to do in some of the coolest cities in the world.
Whether you like to have travel books around for inspiration, or you are planning a specific upcoming trip, you are sure to find at least a few you will want to have on your bookshelf.
The best modern travel guides for stylish travelers: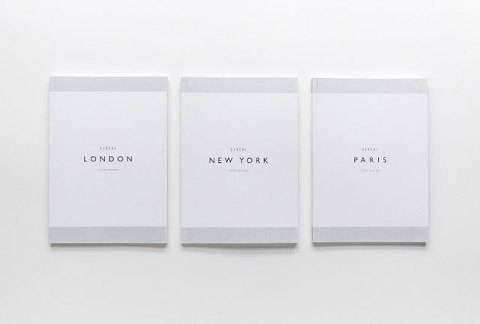 Cereal City Guides
The Cereal City Guides are the most beautiful travel guides, hands down. In the gorgeous, minimalist style of Cereal magazine, these city guides are truly works of art. Photo essays accompany neighborhood maps and a curated collection of recommendations for each city. Printed on luxuriously thick paper, these are begging to be collected. Fingers crossed they keep coming out with more!
Currently available for: Copenhagen, London, New York and Paris.
photo via Cereal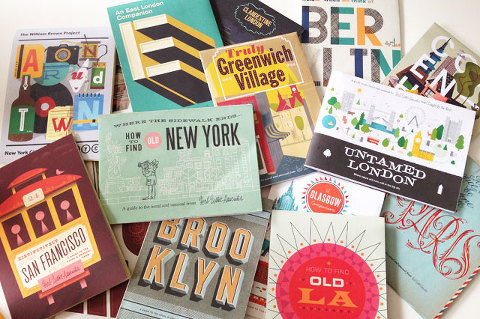 Herb Lester City Guides
These beautifully illustrated Herb Lester City Guides have such unique themes, such as Paris for Pleasure Seekers, or How to Find Old Los Angeles. Each guide aims to show "what makes a place distinctive, to shed light on obscure locations as well as revisiting well-known ones with a fresh perspective." These little folded guides are super cute, and would make the perfect little gift for anyone one your list for just about any occasion!
Currently available for: Amsterdam, Austin, Barcelona, Berlin, Bilbao, Brooklyn, Chicago, Copenhagen, Edinburgh, Glasgow, Greenwich Village, Lisbon, London, Los Angeles, Madrid, Manhattan, Miami, New Orleans, New York, Paris, Portland, Queens, Reykjavik, Rome, San Francisco, Seattle,  Stockholm and Washington, DC.
photo via Herb Lester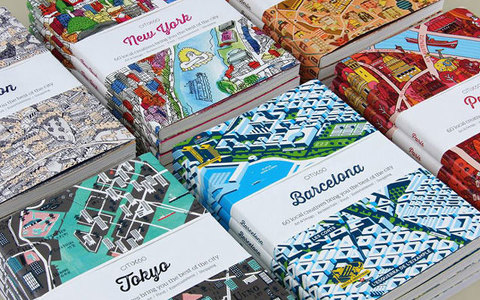 CitiX60 Travel Guides
Artists, designers and creatives always seem to know where the hotspots are. In each CitiX60 Travel Guide, 60 local creatives give you their inside tips on 60 hotspots in their city. Each guide includes: Landmarks & Architecture, Cultural & Art Space, Markets & Shops, Restaurants & Cafés, and Nightlife. Wrapped around the cover of the book is a beautifully illustrated map of the city, which is a work of art on its own. My mom gave us the CitiX60 Berlin before our Weekend in Berlin, and we loved discovering all of the hip places in the book.
Currently available for: Amsterdam, Barcelona, Berlin, Copenhagen, Hong Kong, Istanbul, London, Los Angeles, Melbourne, Milan, New York, Paris, Portland, Singapore, Stockholm, Tokyo and Vienna.
photo via Victionary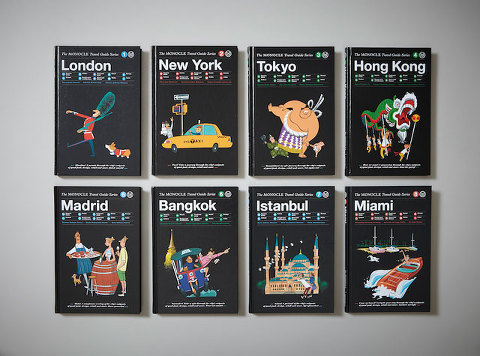 Monocle Travel Guides
The Monocle Travel Guides are more coffee table books than travel guides that you would carry with you, and re full of information and inspiration. Including gorgeous photography, history, fun facts, language, and cultural nuances, (as well as the best hotels, restaurants and shops) these books really give you a full overview of the city.
Currently available for: Bangkok, Hong Kong, Honolulu, Istanbul, London, Madrid, Miami, New York, Paris, Rio de Janeiro, Singapore, Sydney, Tokyo, Vienna and Washington DC. (Berlin, Copenhagen, Los Angeles, Portland, Rome and Toronto are available for pre-order)
photo via Monocle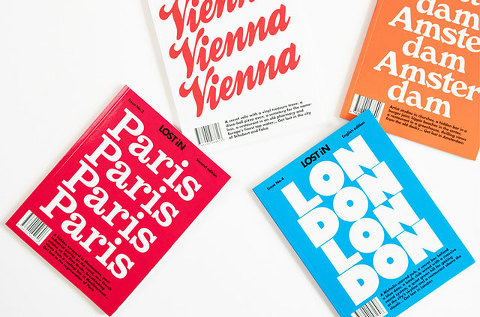 LOST iN City Guides
Formerly known as 38 Hours, LOST iN City Guides go beyond just giving you what to see and do, with in depth stories and interviews, lovely photos and more. And who can resist the amazing typography on the cover of each book? "Getting lost in the city is not about throwing away the map. It's about surrendering yourself to the essence of the place. The sights, smells, flavours and sounds that make it unique. The art and creativity that provide its individual inspiration. Getting lost is diving headfirst into what makes each city its own." There is also a LOST iN a mobile app, where you can purchase individual city guides to take with you on the road.
Currently available for: Amsterdam, Barcelona, Berlin, Buenos Aires, Copenhagen, Frankfurt, Ibiza, Lisbon, London, Los Angeles, Miami, Milan, New York, Paris, Stockholm, Tokyo, Vienna, Warsaw and Zurich.
photo via LOST iN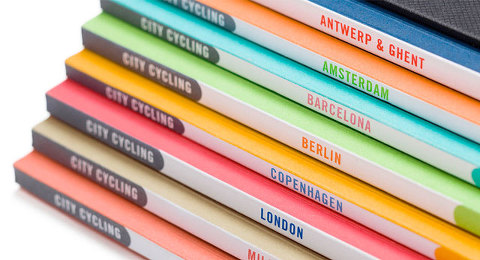 City Cycling Guides
Bicycling is a great way to see a city. But whether you are a professional cycler or a complete novice, you may need a few tips. City Cycling Guides are pocket sized books for each of the major cycling cities in Europe. Each guide is illustrated by a local artist, and includes plenty of maps and practical information, including everything you need to know to see a city on two wheels.
Currently available for: Antwerp & Ghent, Amsterdam, Barcelona, Berlin, Copenhagen, London, Milan and Paris.
photo via Rapha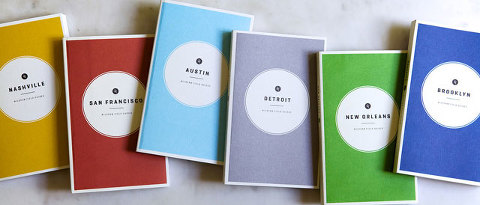 Wildsam Field Guides
The Wildsam Field Guides go in depth into 7 American cities, with a cool, laid back style.  Each book "explores via prose and personalities, mixing historical anecdotes, local interviews, memoir and hand-drawn maps. The guides also offer a select list of city recommendations, smart picks a close friend might offer. Bound together, our aim is to shed light on the lesser known, the complex, the real things, and to lead people into travels that become unforgettable memories."
Currently available for: Austin, Brooklyn, Detroit, Nashville, New Orleans and San Francisco.
photo via Huckberry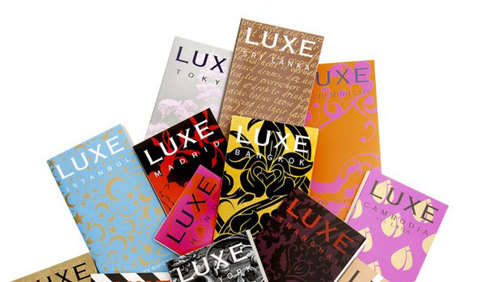 Luxe City Guides
The Luxe City Guides definitely pack a lot of information into a small package. Small enough to fit in your wallet, these accordion style travel guides have all of the information you need to have a fabulously stylish trip. They don't include the maps and photographs of many of the other books on this list. But what they do have is "highly curated, ultra-researched travel and lifestyle information." The Luxe City Guides are also available through their mobile app.
Currently available for: over 33 cities.
photo via Luxe City Guides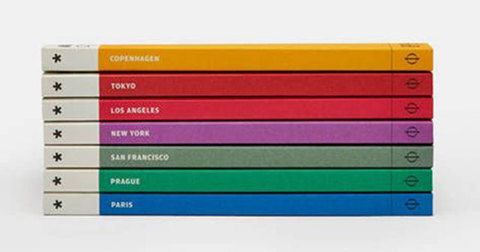 Wallpaper City Guides
The pocket sized Wallpaper City Guides feature stylish Pantone covers, and are a "checklist of all you need to know about the world's most intoxicating cities." There are currently more than 100 destinations, from every corner of the world. (How amazing would they look all lined up on the bookshelf?) Looking for something even more portable? The iOS app is completely interactive and fun to use on the go.
Currently available for: over 100 cities around the world.
photo via Wallpaper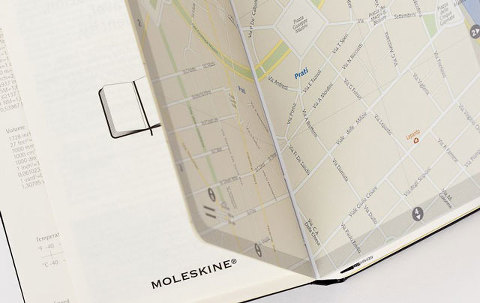 Moleskine City Notebooks
This isn't actually a guide book, but a lovely way to create your own personal travel guide. The Moleskine City Notebooks are refreshingly minimal, well constructed and timeless. From the outside, they look just like the traditional pocket size Moleskine notebooks. But inside, each city notebook has maps, directory pages to keep track of your favorite places, and a pocket for mementos. And of course plenty of plain, lined paper to keep a journal of your travels. I have one of these notebooks for every city we have lived in (which adds up when you move as often as we do!) and I love looking back through them.
Currently available for just about any city you can think of.
photo via Moleskine