I love toys that promote creativity, imagination, and dramatic play.
This DIY Doctor's Kit does all of these things, plus it encourages compassion and gentleness in kids as they care for their patients. And if your little one is afraid of going to the doctor, this is a great way to talk about those feelings, and overcome any lingering fears.
I initially had the idea to make this DIY Doctor's Kit to go with my daughters Halloween costume. (See details on that below) And this may have been one of the best ideas I have ever had. It gets played with more than any other toy we have, and took minimal effort to make.
How to make a DIY Doctor Kit for Kids:
If you want to make your own DIY Doctor Kit, here are some ideas to get you started…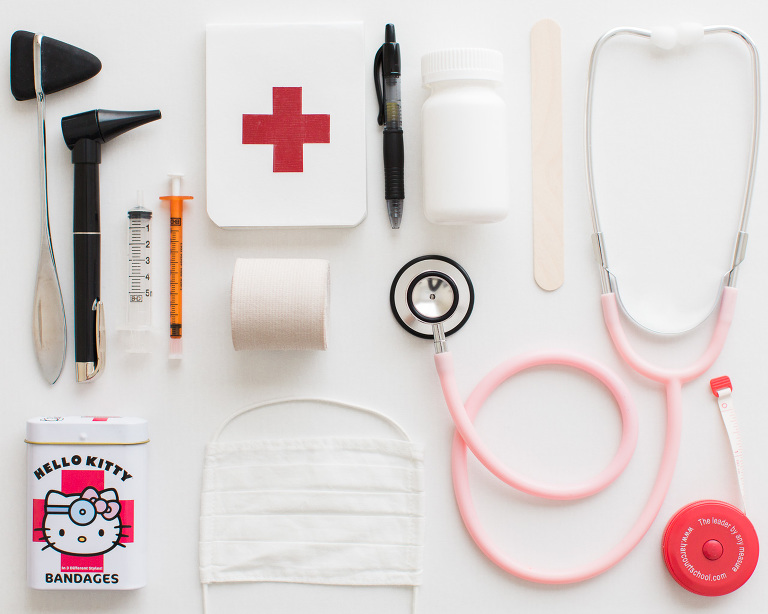 Things To Find For Your DIY Doctor Kit:
I started my search for things to include by collecting random things around the house. If you aren't looking to spend any money, you could make a pretty great doctor's bag by using only these things that you most likely already have on hand.
(clockwise from top right)
various medicine droppers and medicine cups  |  We have apparently never thrown away any of the medicine droppers or cups that have come with any of the baby tylenol or other medicines we have gone through in the last 5+ years, so we had quite a few that I could include. These get used as medicine, shots, and even food for her "patients".
A retractable tape measure  |  For measuring height, head circumference, and boo-boo size.
Band-Aids  |  What kid isn't obsessed with bandaids? I found a cute tin then just refill it with colored bandaids from Target. Because she can go through an entire tin full of these in under an hour.
A mini pen  |  A must if it is going to fit in her little front pocket. Plus, then we know that this is the pen that belongs in the med kit and we can keep it where it belongs.
A tongue depressor  |  Or popsicle sticks. I have a bunch of these because they are always being stuck in someone's mouth.
An empty pill container  |  I just cleaned the label off of an old Advil bottle and left it empty.
An elastic bandage and an adhesive bandage  |  For bandaging their patients.
An old elbow brace  |  This is the perfect size because it can be used on little kid arms, legs, ankles, feet, etc.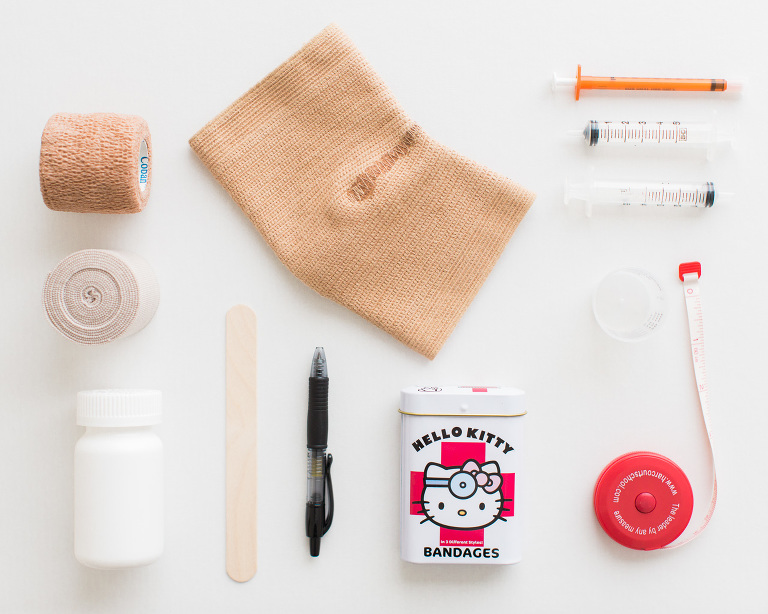 Things To Buy For Your DIY Doctor Kit:
I supplemented what I found around the house with a few other tools that would make the doctor's kit a little more realistic. I found everything online for super cheap.
(clockwise from right)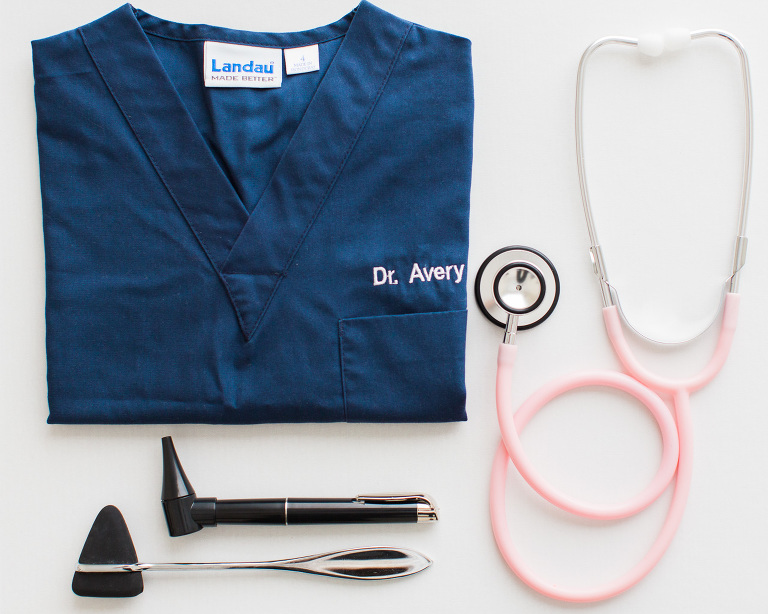 Things To Make For Your DIY Doctor Kit:
And of course I had to make a few things to go along with her kit. I made all of these things within a few hours and used only things we already had laying around.
(clockwise from top right)
A mini notebook / prescription pad  |  I started with a little notebook and just covered it with plain white paper. I cut a small red cross out of red paper and glued it on, then covered the whole thing in clear contact paper to finish it off.
A mask  |  We have a few paper masks from the hospital but they are so big and scratchy, so I made a simple kid sized mask out of white cotton fabric and an elastic cord.
A doctor's bag  |  To hold everything together. (It also doubled as her trick or treating bag) Since I was trying to only use things we already had, I sewed the bag from white cotton canvas, then used a freezer paper stencil and red fabric paint to decorate it. But you could just as easily start with a plain canvas bag. (For more details and photos on using freezer paper stencils, check out this little heart onesie tutorial.)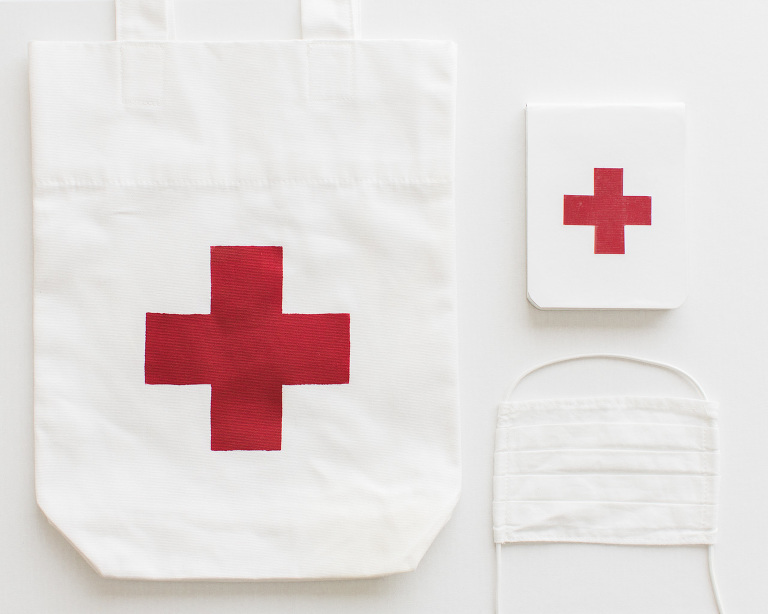 The Best Doctors Kits for Kids
If you aren't keen on putting together your own bag, I've collected the very best kid's doctor kits you can buy.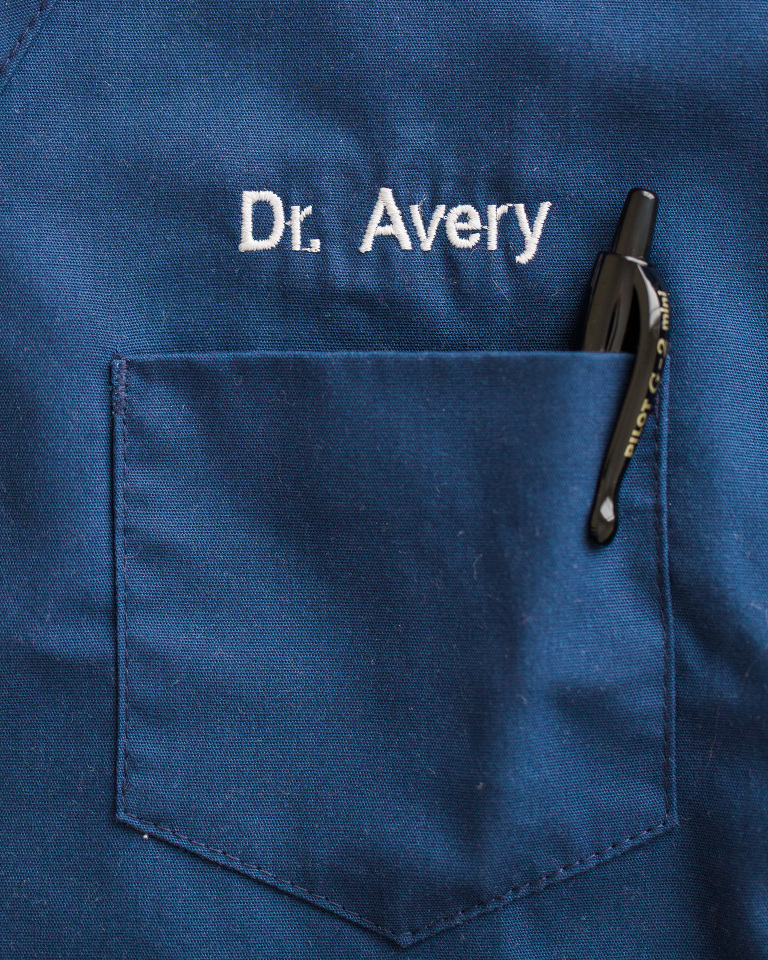 Doctor Halloween Costume for Kids
This whole doctor kit started back in the fall of 2013. My 4 year old started talking about being a doctor for Halloween. It seemed like it would be pretty easy, which was key because I had a newborn at the time. I found these sweet mini scrubs and a pink stethoscope and thought we were set. For the weeks leading up to Halloween she was playing with the stethoscope non-stop, and wearing the scrubs every chance she got.
I knew I had to make a doctor's bag to double as her trick-or-treat bag, to complete the costume. And then that turned into building a whole doctor's kit. So much for my easy Halloween costume! :)
But this doctors kit has been played with daily since I made it. And any Halloween costume that gets played with daily for over a year is definitely a success in my book!
(update 2016: This is still played with daily, by my 7 year old and my 3 year old. Best thing ever.)
And here is the finished DIY Doctor Halloween costume for kids: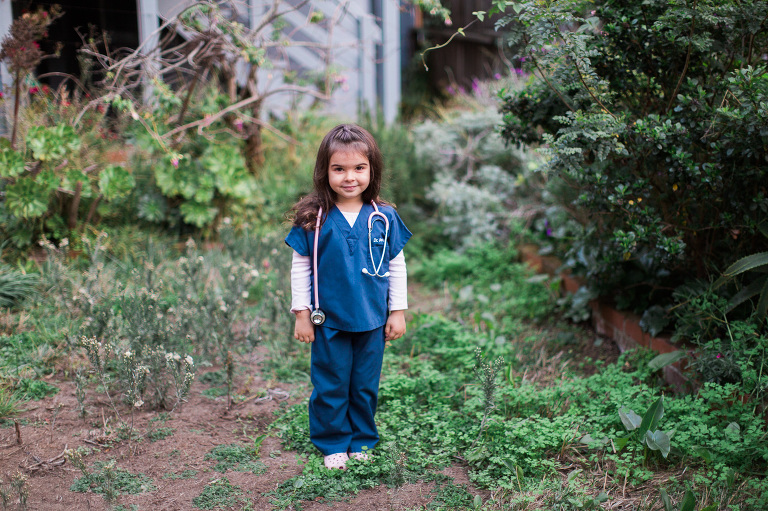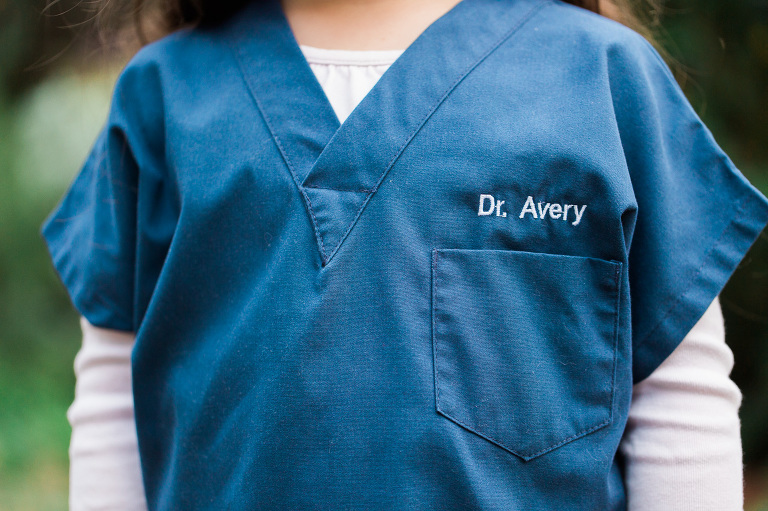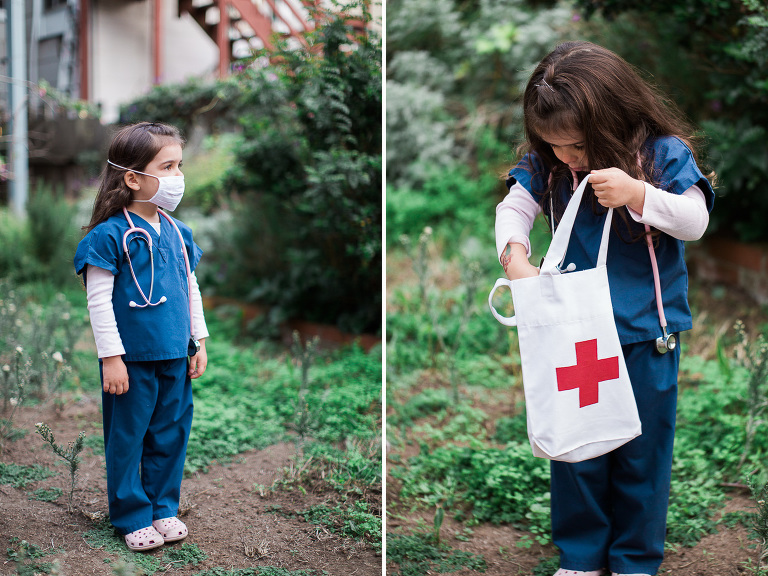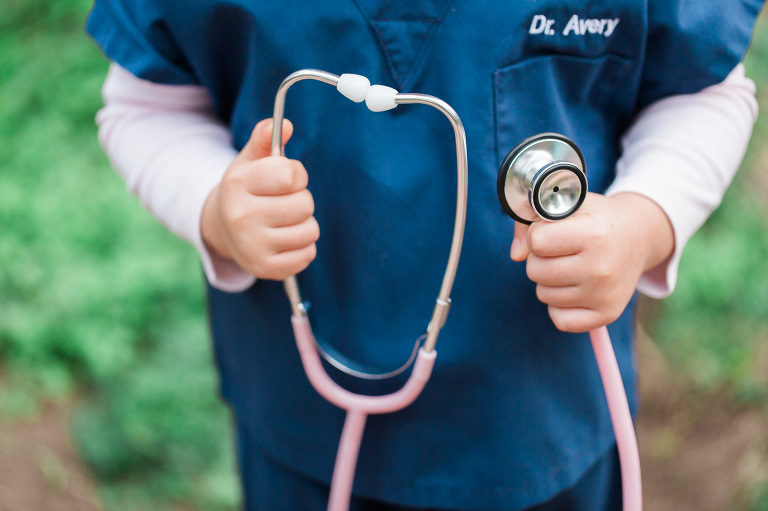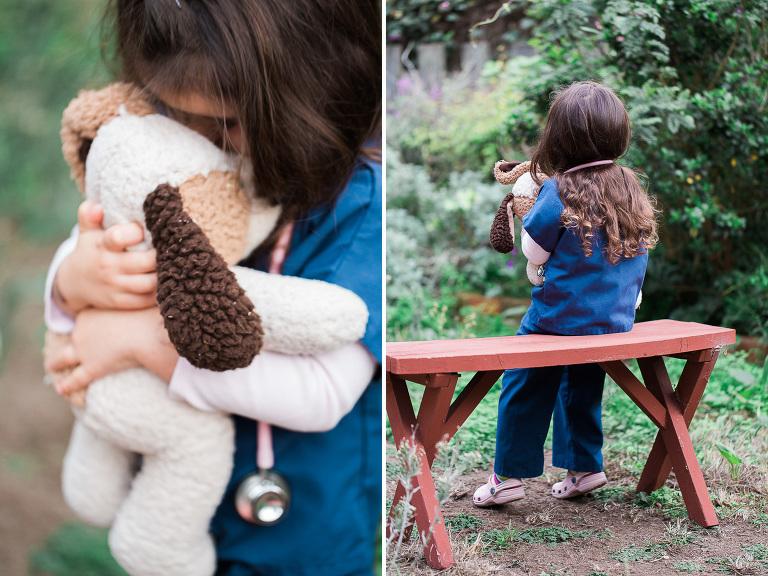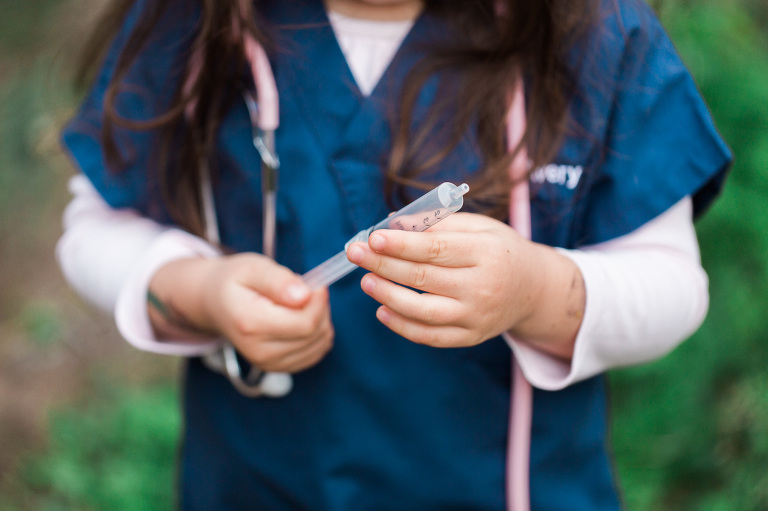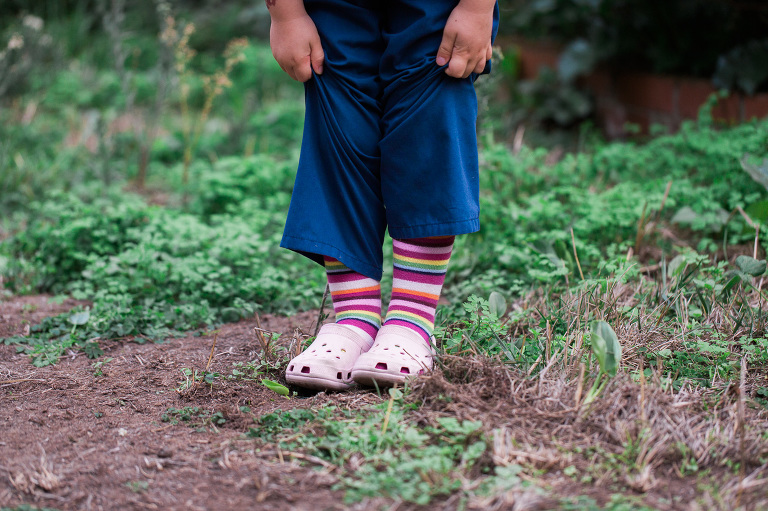 If you liked this post, you might also like: