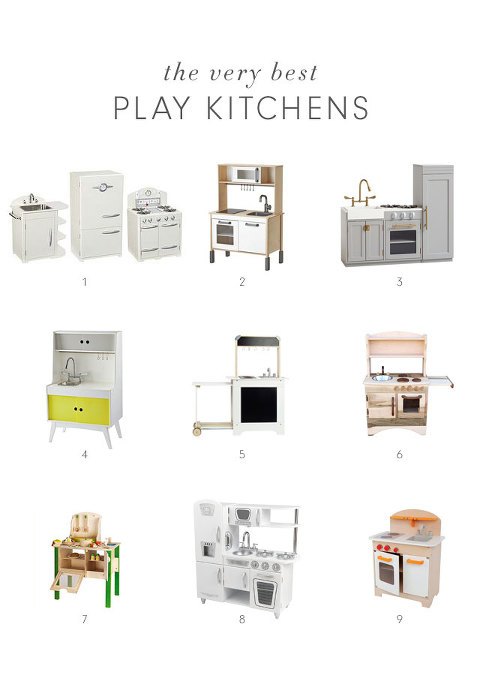 This post was originally written a few years ago, when I was going through the process of choosing the best play kitchen for our toddler. And to date, this is the most popular post on my site!
So I have given this post a complete makeover for 2016, to add in a few new play kitchens that have come out in the last year. I have also updated my opinions on a few of the play kitchens, after getting more personal hands-on experience with them.
A play kitchen is one of the best toy investments you can make. They encourage creativity, role play, language development and more. And it will be played with daily for years and years.
But choosing the best play kitchen can be quite complicated. I know, because I went through the same process for my own child a few years ago.
There were a few important requirements I was looking for in a play kitchen:
High quality and made of wood. Play kitchens get a lot of use, and I knew we would want it around for the long haul.
Eco-friendly and non-toxic. This is super important with all kids toys, but especially those that will be played with on a daily basis.
Have a small footprint since we move a lot and never know how large our living space will be.
Look nice enough to have it out in the living room or kitchen. (i.e. no large plastic eye sores!)
There are so many amazing play kitchens out there, for every budget and style! Below are the best of the best play kitchens, along with some pros and cons of each.
The Best Play Kitchens for 2016
The Pottery Barn Kids Retro Kitchen Collection is the original. The OG. The mac daddy of play kitchens. I fell in love with their retro kitchen before I even had kids. It has a cool retro design with tons of little details like knobs that click when you turn them, a functioning timer, and a sink that actually holds water. The set comes in red, white, pink or grey, to fit in with any decor. I personally like the white, but there is just something so magical about a red play kitchen under the Christmas tree on Christmas morning, don't you think?
At $700 without tax or shipping, the price is a little steep. Plus when you get all three pieces together, it is really big, which isn't good if you prefer a smaller footprint (like us). Luckily there is another option in the same style. The All-in-1 Retro Kitchen is a bit smaller than the original, and a lot less expensive as well. This smaller version comes in white, grey, navy, pink and aqua.
The only hesitation about this play kitchen is the finish. I have had to return Pottery Barn furniture in the past because it was most definitely not low or no-VOC. I am hoping that Pottery Barn starts using healthier materials and finishes in their products, because they do have beautiful designs and the quality is impeccable.
The Ikea Duktig Play Kitchen is very small and simple, and would fit in just about anywhere. Right out of the box it does look a little too Ikea-ish (aka boooooring) but it is so easy to hack the Ikea right out of it. If you want to customize a kitchen, but not build one from scratch, this is definitely the best one to start with. See some of my favorite hacks of this kitchen here, here, here and here.
This is a solid choice for a small play kitchen, and is especially popular here in Europe. Almost everyone I know has it, and they also have it at my daughter's preschool. I am always pleasantly surprised with how well it has held up with all of the use that it gets.
However it is more expensive than the comparatively sized My Creative Cookery and doesn't include any accessories. The only other negative is that the oven opens from the side, like a cabinet, instead of from the top. (I guess my kids like realistic play kitchens!)
The Pottery Barn Kids Chelsea All-in-1 Kitchen is very similar to the All-in-1 Retro Kitchen, but a bit more modern looking. It is about the same size, and has all of the same realistic details of the retro kitchen. (Knobs that click, a sink that actually holds water.) It comes in grey, pink and white. If you want a bigger set, there is also the larger Chelsea Kitchen Set.
Unfortunately, this set comes with the same concerns as the retro kitchen. It is expensive and the finish might be questionable. However, the style and quality of the Pottery Barn Kids Chelsea All-in-1 Kitchen might make up for the concerns I have. I really love this kitchen and I kind of wish my real kitchen looked just like this!
There is a lot to love about the Land of Nod Future Foodie Play Kitchen Set. It is made of low emission engineered pinewood with a non-toxic finish. It has real stainless steel sink and knobs. The modern design is so cute. And I always love the quality of Land of Nod furniture.
However all 3 pieces together are quite large, not to mention quite pricey. (Similar to the Pottery Barn sets above.) And the colors wouldn't quite work in our house.
To solve these problems, I would just buy the Future Foodie Play Kitchen Sink, and make a few customizations. I would paint the neon yellow cabinet doors grey to match the top cabinet doors, and attach a few round wooden discs to the right side of the sink to be burners for the stove. Then it would be a super cute all-in-one little kitchen!
The Hape Playfully Delicious Cook n' Serve Kitchen is small, simple, and very reasonably priced. It is perfect for small spaces, since you can pull out the side cart when playing with it, and tuck it back inside when you aren't. The chalkboard on the front is great for writing the daily menu, or letting people know if the restaurant is open or closed, as my girls like to do. This kitchen would also be great to customize a bit, like with the Ikea kitchen.
I have never had the opportunity to see this kitchen in person. But we have a lot of toys from Hape, because I love the company philosophy and the quality of all of their toys. Hape has a strong sense of social and ecological responsibility, using only quality, sustainable materials and non-toxic finishes in all of their products.
6. Handmade Waldorf Wooden Kitchens
If you want a high quality wooden Waldorf style kitchen, expect to pay a higher price. But you really do get what you pay for. These are handmade in the USA and are gorgeous. They are made of high quality hardwoods such as Pine, Birch, Maple, Walnut, Oak and Cherry, and finished with natural stains and oils. Pictured is the Maple Wood Play Kitchen by Camden Rose. You can also find lots of great Waldorf style kitchens on Etsy, like these by AToymakersDaughter and Willowtoys.
The My Creative Cookery Club Kitchen is the smallest and lightest weight of all of the play kitchens listed here, perfect for toddlers or those who don't have a lot of space.  It is made of solid wood from sustainably sourced forests and non toxic finishes. The bright green legs aren't really my style, but they would be easy to paint before you put it together.
This kitchen comes with food, pots, pans, plates and utensils, making it the best value by far. You really wouldn't need to purchase anything more. If you want a wooden play kitchen with nice accessories, but are on a tight budget, this is the winner, hands down.
I know a ton of people who have the KidKraft Vintage Kitchen and swear by it. It is very cute, similar in style to the Pottery Barn Kids Retro All-in-1, but much less expensive. I love the all-in-one design and the accessories such as the phone, the microwave and the ice maker. It comes in white, red, pink, blue and navy, but of course I like the white best. If you are looking for something a little more modern, the KidKraft Uptown Espresso Kitchen is laid out the same, with similar accessories. It is a bit larger than the vintage kitchen, but may be more your style.
Although these KidKraft Kitchens may seem like an easy choice, they come unassembled, and from what I hear it is a very lengthy assembly.  If I am going to spend 5 hours putting it together, why not build my own? Also, I can't find anything about the wood or finishes used in the KidKraft products, which leads me to believe that it is not up to the standards I want.
The Playfully Delicious Gourmet Kitchen is nice and small, but not as small as the My Creative Cookery Club Kitchen. Made of Baltic Birch plywood and non-toxic finishes, this an excellent eco-friendly choice. And like I said above, I love all toys by Hape. In addition to the white version, it comes in bright green, which is a little wild and crazy for my allergic-to-color-taste, and purple, with matching bonus accessories.
There is also an adorable matching fridge, the Hape Playfully Delicious Gourmet Fridge that really completes the set. But the main part of this kitchen that I like is the small footprint, so I personally wouldn't go with the fridge.
The best play kitchen for small spaces (or nomadic families)
The Haba Play Cooker
 is the perfect solution for families without the space for even the smallest play kitchen. I love that you can set this on the counter and your little ones can cook right next to you. You can also turn any little table or even a chair into a play kitchen. The only negative is that there is no storage for the play food or other accessories, but you could always get a nice wooden crate to keep everything in. Or even a large cloth drawstring bag. If you prefer handmade, The Little Kitchen is completely handmade in the USA of solid pine wood with a natural oil and beeswax finish. And this little tabletop version even has an oven!
Not Included in this update
Plan Toys Kitchen
Plan Toys is one of my all-time favorite toy companies. We have quite a few of their toys, and I love them all. Great quality, all of the wood comes from rubber trees that no longer produce latex, and all of the finishes are completely non-toxic. The price adds up if you are planning on getting the refrigerator
, stove
, washing machine
and sink
, but the quality is amazing and I know they would last forever. Instead of the set, there is a double-sided Kitchen Center
, with a sink, stove and oven all in one. Perfect for multiple children, since each could play on a different side. If you are really low on space and looking for a table top version, you could also try the Plan Toys Red Tabletop Stove. (The Plan Toys Kitchens, although really nice in person, have been removed from this list because they are very hard to find. Plan Toys doesn't seem to be making them anymore.)
Our Play Kitchen
For those who are curious, we didn't actually end up buying any of these play kitchens. Instead, we went the DIY route and had a cute little play kitchen made. We have been so incredibly happy with our play kitchen, and it has seen a lot of love over the years. It is currently being given a little face lift, and I will share some photos, along with details on how it was made in the next few weeks.
Do any of you have personal experience with any of these kitchens? I would love to hear your thoughts on them!