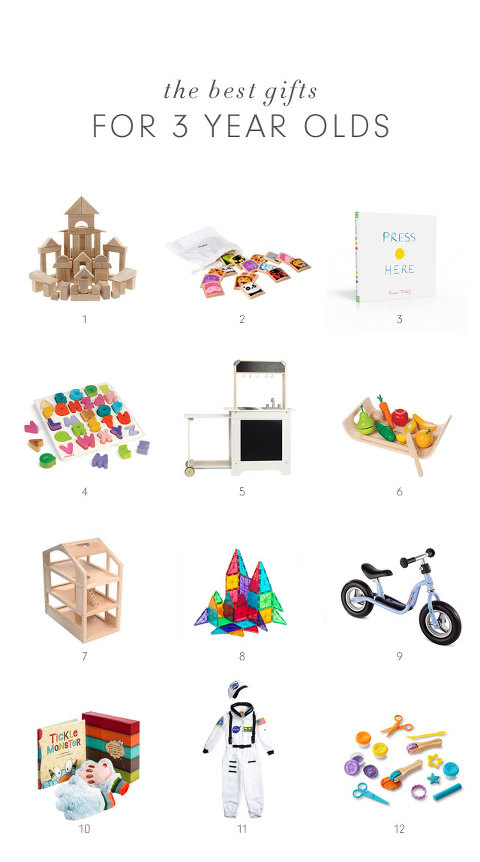 1 | 2 | 3 | 4 | 5 | 6 | 7 | 8 | 9 | 10 | 11 | 12
My baby turns three next week, and I have been trying to come up with the perfect gift. Between her and her older sister, they have quite a few books, toys and games. And I want to make sure that anything new is really adding value, and not just clutter, to our home.
So I did what I always do and did a ton of research. I talked to other moms, asked all the kids I know, and made lots of lists. And I came up with a pretty exceptional list of the very best toys, books and games for three year old girls and boys.
If you are looking for something special for the three year old in your life, there are options here for every interest and price point, and all are high quality toys that won't be thrown out after a few months.
The best gifts for 3 year olds
Play Kitchen
A play kitchen is a favorite for toddlers, preschoolers, and even older kids. But 3 year olds are the perfect age for a play kitchen.  It encourages creativity, role playing, language development and more. They come in many different sizes and price points, to fit your space and budget. We first got a play kitchen for our oldest when she was 2 and a half, and it was a huge hit. It is actually still played with daily, almost 5 years later! (For more information on all things play kitchens, read: The Very Best Play Kitchens and The Best Play Kitchen Accessories)
A few of the best play kitchens for preschoolers:
Dollhouse
No, not a fancy collector's dollhouse with precious accessories. A durable, gender-neutral dollhouse that can stand up to the rough play of toddlers and preschoolers. My girls received a doll house for Christmas last year, and I have been pleasantly surprised by the amount of time they spend playing with it, and the valuable insight I have gained from watching them role-play with the dolls.
Great gender-neutral dollhouse picks:
Dress Up Clothes
The ultimate in pretend play, the dress up clothes collection is always the first thing that gets played with when my girls have friends over. The wonderful thing about dress up clothes is that you can add just about anything to the collection. Sure, buying some starter outfits is great, but items found around the house such as old scarves or other accessories are perfect additions as well.
Some fun dress-up clothes to get you started:
Arts & Crafts Supplies
Even for the kid who has everything, it is always nice to get new art supplies! For the little ones, I always look for ultra-washable crayons, markers, etc. And if they are sized for little hands, that is even better.
Arts & Crafts supplies perfect for a 3 year old:
Building Toys
Blocks are a favorite for kids of all ages. They are a simple, open-ended toy that can be used for years and years. And they have excellent benefits as well! Blocks and other building toys are great for hand-eye coordination and spatial skills. Playing with blocks also teaches concepts such as counting, sorting, ordering, size and shape, and primes little minds for important mathematical skills they will learn in the years to come. Plus, they are appropriate for any age. All of the choices below are as good for a toddler as they are for elementary school aged children, making them a smart investment.
A few of our favorite sets of blocks:
Puzzles & Games
Puzzles and games offer so many benefits for children as they develop and grow. They teach patience, fine motor skills, hand-eye coordination, shape recognition, problem solving, memory and more. And depending on which you choose, they also introduce letters, numbers, colors and more. I also love that they are a nice activity for some quiet playtime with your child.
Puzzles and games that any 3 year old would love:
Ride on Toys
A great way to burn off energy, and a nice alternative to a stroller. Preschoolers love ride on toys, and are ready for more of a challenge. A push bike and a three wheel scooter are both good options at this age for building balance, coordination, and confidence.
A note on the balance bikes: We have this little Puky Push Bike that we bought here in Austria, and it is awesome. It has a low clearance for getting on and off, and a place where the kids can rest their feet as they are gliding along. Unfortunately it is quite expensive in the U.S., so I have come up with a few others that are a bit more reasonably priced. If you are located in Austria or Germany, I definitely recommend getting the Puky Push Bike!
The best ride-on toys for three year olds:
Books
I think books are the perfect gift for just about any age! But they are especially important at this age for building a love of reading in your children, and also developing essential pre-reading skills. Three year olds are beginning to recognize letters, learning how to hold a book properly and turn the pages with care, and understanding story lines. At this age, look for repetition, rhyme, interactivity, and beautiful images.
Some of our favorite books for three year olds:
What do you think is the best gift for a 3 year old?
Please help me out with more ideas for my list! What are your kids favorite toys, books or games?