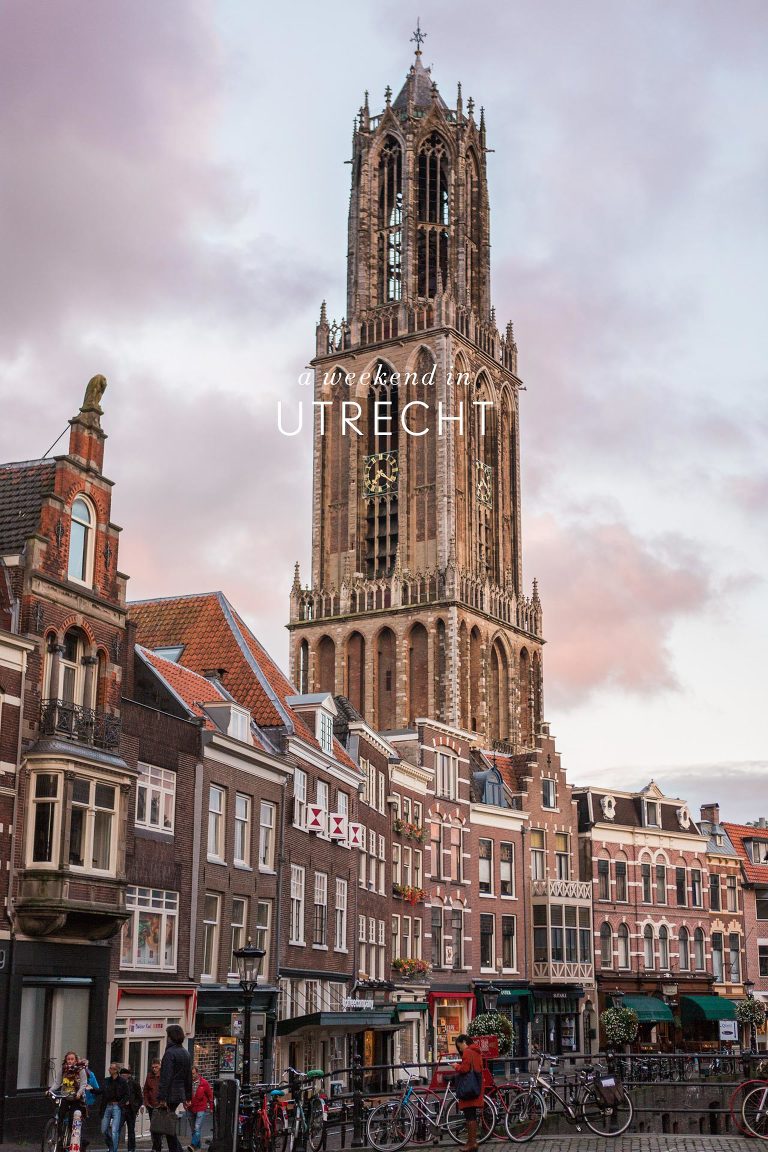 Most people visiting The Netherlands go straight to Amsterdam and never look back. I understand why, it is pretty amazing, and one of my favorite cities in the world. But just a half hour south of Amsterdam, right in the middle of The Netherlands, is the cutest little university town of Utrecht. With a medieval city center, beautiful canals and plenty of museums, shops and restaurants, a stop in Utrecht is definitely worth your time!
TRAVEL
There are direct flights to Amsterdam's Schiphol Airport from just about anywhere in Europe. From Vienna it is less than 2 hours and costs about €200. From Schiphol, trains to Utrecht Central Station take about half an hour. Arriving at Utrecht Central Station is a little odd, however, because you have to walk through a maze of an indoor shopping mall before coming out into the charming city center.
EAT
Frietwinkel  |  Fries, fries, and more fries! Not only are their fries amazing, but they serve them in these cool little cones that have a special tray for your sauce, so the fries don't get soggy. The line is usually out the door, but these fries are worth the wait!
Kloek  |  If you want chicken, go to Kloek. Choose between a whole or half chicken with a large selection of sides and tons of specialty beer. The chicken is locally raised, free range, hormone free, organic and delicious.
Bag & Buy  |  The first package-free, bulk goods store in Utrecht is a smart choice if you are staying somewhere with a kitchen, or if you are looking for some healthy snacks.
Stan & Co.  |  A stylish, cozy spot right next to the Mother Goose Hotel to grab drinks or a bite to eat.
Restaurant Keuken  |   This cute little place is a bit outside of the center, but definitely worth the walk. Before even trying the food (which was wonderful) I fell in love with the interior. From the mismatched chairs to the industrial details and chalkboard wall, everything was prefect.
SLEEP
Mother Goose  |  Quite possibly my favorite hotel stay, ever. Housed in a building that dates back to at least the 14th century, the Mother Goose Hotel is a beautiful boutique hotel with amazing views of the Dom Tower. Read more about my stay at the Mother Goose Hotel.
Check the latest prices on:  Booking  |  Hotels.com  |  Agoda
Read reviews on:  TripAdvisor
SEE & DO
The Letters of Utrecht  |  Started in June, 2012, this is a never ending poem carved into the cobblestones on the Oudegracht in the middle of Utrecht. Every Saturday at 1pm, a new letter is added to another stone, and the project will continue indefinitely. Make sure you look down, or you may walk right by and miss it altogether!
Rietveld Schröderhuis  |  A UNESCO World Heritage Site, this house was designed in 1924 by Gerrit Rietveld for Truus Schröder, in the style of the De Stijl artistic movement. Characterized by right angles, straight lines and primary colors, Rietveld tried to blend the indoors with the outdoors by adding doors to the outside from every room, and designing only sliding instead of fixed interior walls. 
Dick Bruna Huis / Miffy Museum  |  If you are visiting Utrecht with kids, this should be your first stop. Celebrating Dick Bruna's world-famous iconic bunny, young children can step into the life-size, interactive world of Miffy, while adults learn how Miffy was created in 1955, and how she has evolved over the last 60 years. Both of my girls are huge Miffy fans!
Domtoren  | The 600 year old Cathedral Tower, right in the center of town, is the highest church tower in the Netherlands. You can take a guided tour to the top of the 112 meter tower for amazing views of Utrecht. The 2015 Tour de France course went directly under the Domtoren.
Act like a College Student  |  Ride a bike, sit in a cafe and work on your laptop, go to bookstores, walk around aimlessly. Utrecht is a University town, so take advantage of all those things that make University towns so great!
SHOP
Do the Dutch have the coolest, most well curated shops ever, or do I just really love Dutch design? I even love HEMA, which is their version of Target! Either way, there were a ton of shops in Utrecht that I fell in love with, here are just a few.
De Utrechtse Kinderboekwinkel  |  I don't collect tchotchkes, so usually the only souvenirs I bring home from my travels are my photos. The big exception to this rule is children's books. I would absolutely love to have an amazing collection of children's books from each country I have traveled to. In this amazing little children's book store, I found some wonderful Dutch classics, in English. I brought home a few Miffy books and also Tow Truck Pluck, which is our new favorite!
WAAR  |  A unique shop carrying fairtrade, organic, ecological, recycled goods from around the world. Such an interesting collection of clothes, food, books, and home accessories.
All the Luck in the World  |  I fell in love with this shop in Amsterdam, but I might like the Utrecht location even better. They have vintage and new clothes, accessories, home accessories and gifts.
Nukuhiva  |  Another shop that I loved in Amsterdam. Everything comes from fair trade, sustainable, recycled or organic materials.
MORE
Read more posts about The Netherlands.
Looking for more Travel Guides?