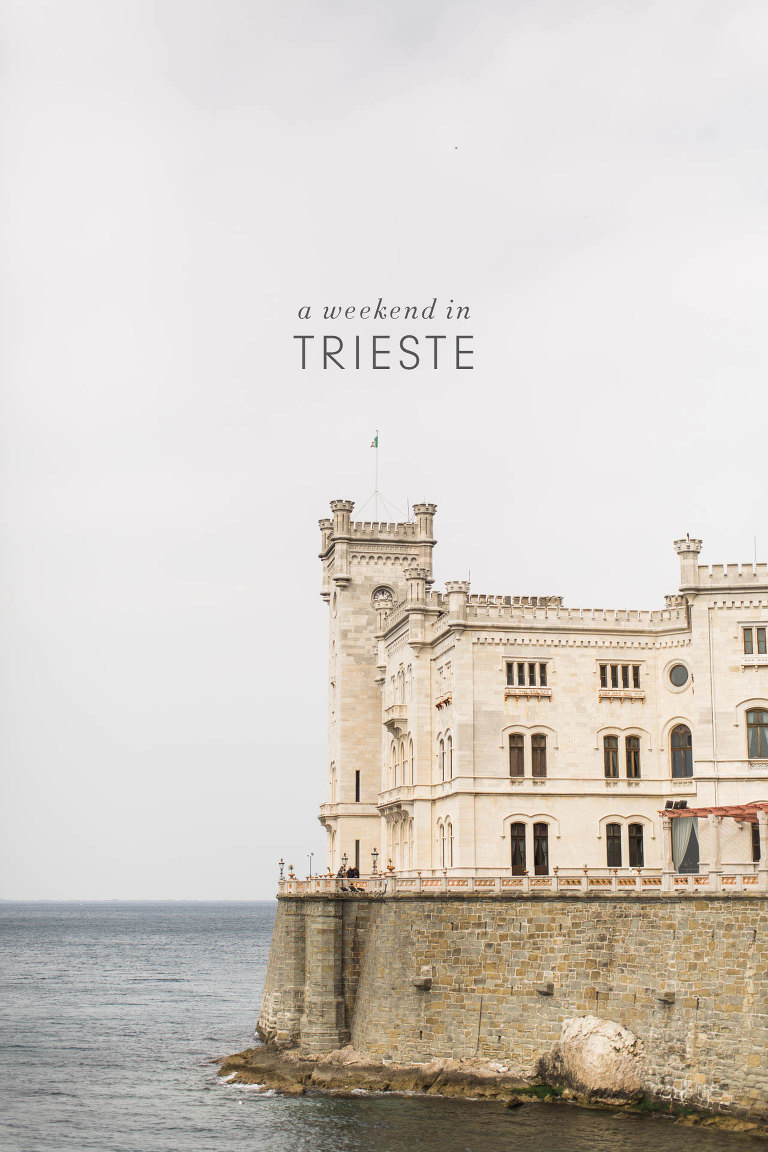 More Vienna than Venice was how Trieste was appropriately described in a book I read a while back. Which is fitting since Trieste was a part of Austria until nearly a hundred years ago. For a long time it served as the most important port, and the 4th largest city, in the Austro-Hungarian Empire. The storied past of this Italian city, plus its close proximity to Austria, prompted us to visit for a quick weekend at the end of spring break this year.
TRAVEL
Trieste is in Northeast Italy, just over the border from Slovenia. You can reach Trieste by train from Venice, or you can fly from Rome, Milan, or Munich. It is only a 4 and a half hour drive from Vienna, making it an easy weekend destination for us.
EAT
La Tavernetta  |  If you aren't specifically looking for La Tavernetta, you might walk right by. It is a simple little restaurant with just five tables, and a handwritten menu on a chalkboard by the door. I can't stop thinking about the steak served over fresh arugula with grated cheese!
Trattoria NerodiSeppia  |  A very popular seafood restaurant just a block up from the water. It is not very big, so be sure to get reservations far in advance. I ordered the Fritto Misto, which I have ordered dozens of times times from Italian restaurants in the US. So I was a little surprised when the plate came out with tiny, whole shrimp, and whole little fish. I actually had to ask the waiter if I was supposed to eat the entire shrimp, head, shell, and all. (You are!) After I got over the initial shock, it was actually really good.
Chimera di Bacco  |  This place is a bit hidden on a back alley behind the Piazza dell'Unita d'Italia, but such a great find. It seemed a bit fancy when we walked in, which was a little worrisome since we were with our two tired little girls. But they couldn't have been nicer and more friendly to the kids, even making them a special pasta dish for dinner. Everything we ordered was fabulous, especially the fish.
Tavernetta al Molo |  After visiting the Castello di Miramare, we had lunch at this fantastic little place right on the water. It was a beautiful sunny day, so we were able to eat outside on the patio. The people here couldn't have been friendlier and the food was unbelievable. Our favorite meal in Trieste!
SLEEP
Savoia Excelsior Palace  |  This hotel was designed in 1911 by Austrian architect Ladislaus Fiedler, and at that time was thought to be the most luxurious and important hotel in the Austro-Hungarian empire. (Emperor Franz Josef was a frequent guest.) We loved the central location, right on the water, and the fact that it is so kid-friendly. They offer special family suites, with amenities such as potty seats, bathroom stools, kids bath products, and complimentary snacks for the kids. Its the little things that make a big difference when traveling with kids and this hotel does it right.
Check the latest prices on:  Booking  |  Hotels.com  |  Agoda
Read reviews on:  TripAdvisor
SEE & DO
Piazza dell'Unità d'Italia  |  The main square in Trieste, and Italy's largest square that faces the sea. Our girls loved running around the piazza chasing birds.
Acquario Marino della Città di Trieste  |  Most things that I read about visiting Trieste with kids recommended the Aquarium. And from the outside, it looks great. It is in a really cool old building (the former fish market) right on the harbor, and it promises typical marine life of the Adriatic and the Mediterranean Sea. While it was interesting to see the species native to this area, the aquarium itself is in need of some major TLC. However, it is inexpensive and the kids enjoyed it, so not a bad way to spend an hour or so.
Grotta Gigante  |  According to the Guinness Book of World Records, this is the Largest Show Cave in the world. I am not a big fan of caves, so my husband and older daughter visited this during the little one's naptime. Besides the 500 steps down and another 500 up, they really enjoyed it.
Castello di Miramare  |  Just north of the center of Trieste lies the Miramare Castle, seeming hanging over the edge of the sea. It is surrounded by a beautiful garden, which is a great place to let kids run and play. The story of the castle itself is fascinating. It was commissioned by Archduke Maximilian of Austria, but he was unexpectedly crowned Emperor of Mexico, and never actually lived in the castle.
Castello & Catedrale di San Guisto Martire  |  Worth the hike up the hill to explore and enjoy the views.
Strada Vicentina  |  A nice, easy walking path with a beautiful view. If you follow the trail the whole way, you would end up in Prosecco, which we would have done if it weren't for little legs getting tired.
MORE
Most places close in the middle of the day, from approximately 12:30pm until 4pm. Also, restaurants don't open for dinner until about 7:30pm. If you are traveling with small children who are usually asleep by 7:30, this might be a little tricky. We tried to eat lunch a little later than normal, then have a nice big snack in the afternoon so that they could make it until dinner.
Looking for more Travel Guides?