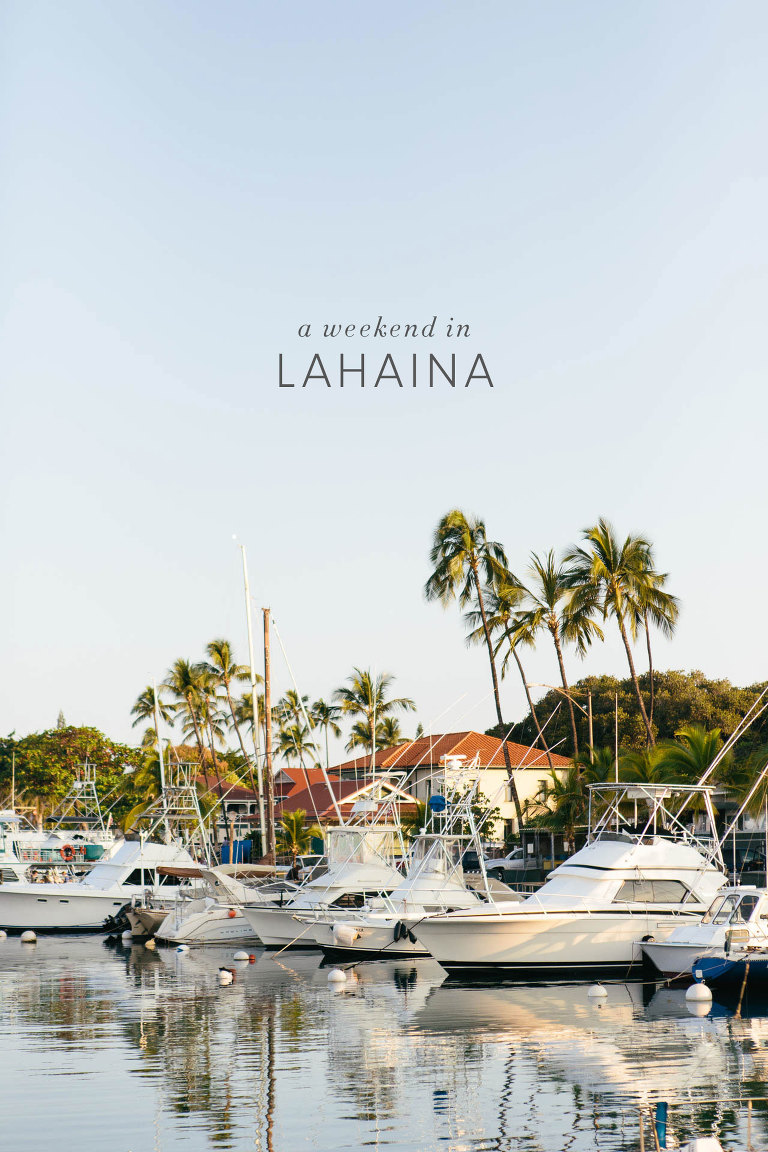 Lahaina (or Lāhainā), is a picturesque little former whaling village on the west side of Maui. Once the capital of the Kingdom of Hawaii, from 1820 to 1845, Lahaina has played an integral role in the development of the Hawaiian Kingdom, and later the State of Hawai'i.
I titled this A Weekend in Lahaina, because this is what I would do if I were only in town for a few days. But you are going to want to stay for a lot longer than a weekend!!
TRAVEL
Unless you are coming from one of the other islands, you are going to have at least a 4-5 hour flight from the West Coast to get to Maui. Coming from Europe, it will take you over 20 hours. But it is worth it!!! Fly into Maui's Kahului airport, then drive 45 minutes across the island to Lahaina. Lahaina itself is a very walkable town, but if you want to do any other exploring on Maui, you will need to rent a car.
EAT
Aloha Mixed Plate  |  Paper plate meets million dollar view. If that isn't the best slogan for a restaurant, I don't know what is! Right on the ocean, this is the best little casual spot with inexpensive, local-style plate lunches. If you go for dinner, you can hear the music from the luau next door while you eat.
Choice | This is definitely the place to eat if you are vegetarian or vegan! But even if you aren't (I'm not!) you should still go. They have the most amazing Açai Bowls I have ever tasted. Think a super thick smoothie topped with granola, fresh fruit, coconut and honey.
Fish Market  |  If you are looking for fresh fish, The Fish Market is the best. About a 10 minute drive north of Lahaina, they have several varieties of fresh caught fish that you can buy to cook at home, along with some delicious toppings. (Perfect if you are staying at a condo with a grill) On the other side of the market, you can order fish and a few other dishes to eat there. Go for the fish tacos – they are the some of the most delicious (and cheapest) you will ever eat.
Shark Pit  |  Ranked #6 in Yelp's Top 100 Places to Eat in the U.S. for 2015, Shark Pit serves "funked up farm food". They started as a food truck, now have a restaurant location next to Jamba Juice in the Foodland Lahaina Shopping Center. Everything they serve is great, especially the fish tacos, corn on the cob, and the brussels sprouts!
Star Noodle  |  It may be a little way from the other popular restaurants on Front Street, but Star Noodle still has a cult-like following. An Asian fusion restaurant with all types of noodle dishes (and some non-noodle dishes too) this place is always packed! Be sure to get reservations or you will have quite a wait.
Poke  |  My favorite thing to eat in Maui is fresh Ahi poke with white rice and local Maui avocado. I have tried the Poke from quite a few places, and my favorite is from Foodland Farms Lahaina. They have a great selection and will let you test out a few varieties before you choose. Plus, if you are looking to escape the crazy crowds of Safeway, Foodland is a great place to do all of your grocery shopping in Lahaina. I also love Tamura's, but they have less variety and are a little more expensive than Foodland Farms.
Shave Ice  |  You can't go to Hawaii and not eat shave ice! My kids did their best to taste-test all of the shave ice on Maui to find the very best, and they vote for the rainbow shave ice from Local Boys. Their secret is a scoop of Roselani ice cream at the bottom, and a dash of kuaui cream on top.
SLEEP
Lahaina Roads  |  On the north side of Lahaina is this little hidden gem right on the ocean, with the most amazing views and a wonderful homey feel. Walking distance to town, Baby Beach, and the Safeway shopping center, but still far enough away that it is quiet and relaxed, the location can't be beat. When you are done in town, you can sit on the lanai and see the turtles playing in the surf and the whales breaching off shore, or lounge by the heated pool while looking out at the ocean. This place is definitely my idea of perfection.
SEE & DO
Old Lahaina Luau  |  Its seems that nearly every big hotel on Maui offers puts on a luau. Save your time and money and go straight to the Old Lahaina Luau. This is by far the best and most authentic luau on Maui, in an amazing location with a beautiful show and fabulous traditional food. Be sure to get reservations early, as they sell out quickly.
Whale Watching  |  Every winter, over 10,000 North Pacific Humpback Whales make the journey from Alaska to the warm, shallow waters of Maui to breed and give birth to their calves. From December through April, you can see these majestic creatures just off shore, in the channel between Maui, Moloka'i, and Lana'i. But for a real show, go out on a whale watching boat (the small boats are the best!) where you can see mama whales teaching their babies to swim and breech right in front of you. It is truly and unforgettable experience.
Banyan Tree  |  Right in the heart of Lahaina, in front of the harbor, is one of the largest Banyan trees in the United States. Planted in 1873 to memorialize the 50th anniversary of the first American Protestant mission in Lahaina, the Banyan Tree is now over 50 feet tall with 16 trunks. There are numerous events that take place under the Banyan Tree, such as the arts and crafts fair every Saturday and Sunday, where local artists display and sell their work, holiday and cultural celebrations, concerts and more.
Baby Beach  |  This is the very best beach for babies, toddlers, small kids, and anyone who likes a relaxing beach with no waves. The water is crystal clear and stays super shallow, so even the littlest kids can play safely in the water.
Walk & Shop  |  There are so many cute shops and art galleries in town. Spend some time just wandering along Front Street (which has been named one of the top 10 greatest streets in the US) and up and down the tiny side streets. If you are in town on the 2nd Friday of the month, don't miss the Lahaina Town Party!
Lahaina Heritage Museum  |  Housed in the Old Lahaina Courthouse, this interactive museum covers Lahaina's complete history, from ancient times through the present. For such a tiny town, this is a really impressive display and definitely worth an hour or two of your time.
SHOP
Goin Left |  Definitely the most hip shop in Lahaina, Goin Left is an active lifestyle shop with everything from air plants and journals, to surfing and skateboarding gear and handmade hammocks. Walking in here is like a breath of fresh air after the all of the tacky tourist shops.
Sand People  |  Sand People has the cutest island gifts and decor! You won't be able to walk out of this shop empty handed.
Hale Zen  |  A beautifully curated shop filled with island style home decor items, clothing, accessories, and the cutest little baby section ever.
Banana Wind  |  Located in the Lahaina Cannery Mall, this is an impressive collection of unique, handcrafted items from all over the world. Everything in the store is personally sourced by the owner, during her travels with her children, and inspired by the aloha spirit of Maui.
Surf Shops  |  Right along Front Street you will find HIC, Honolua Surf Co., Quicksilver, Billabong, Volcom and plenty of others. Whether you are looking for swim suits, clothes, flip flops, hats, or even luggage, you are sure to find it at one of these surf shops. Many also carry items exclusive to their Maui locations.
Tourist Shops  |  If you are looking for Hawaiian print shirts or dresses, hula outfits, cheap t-shirts, or any other Hawaiian type tchotchkes, hit up one of the zillion tourist shops on Front Street. Though they are all relatively similar, I like Whaler's General Store best.
P.S. – More Travel Guides