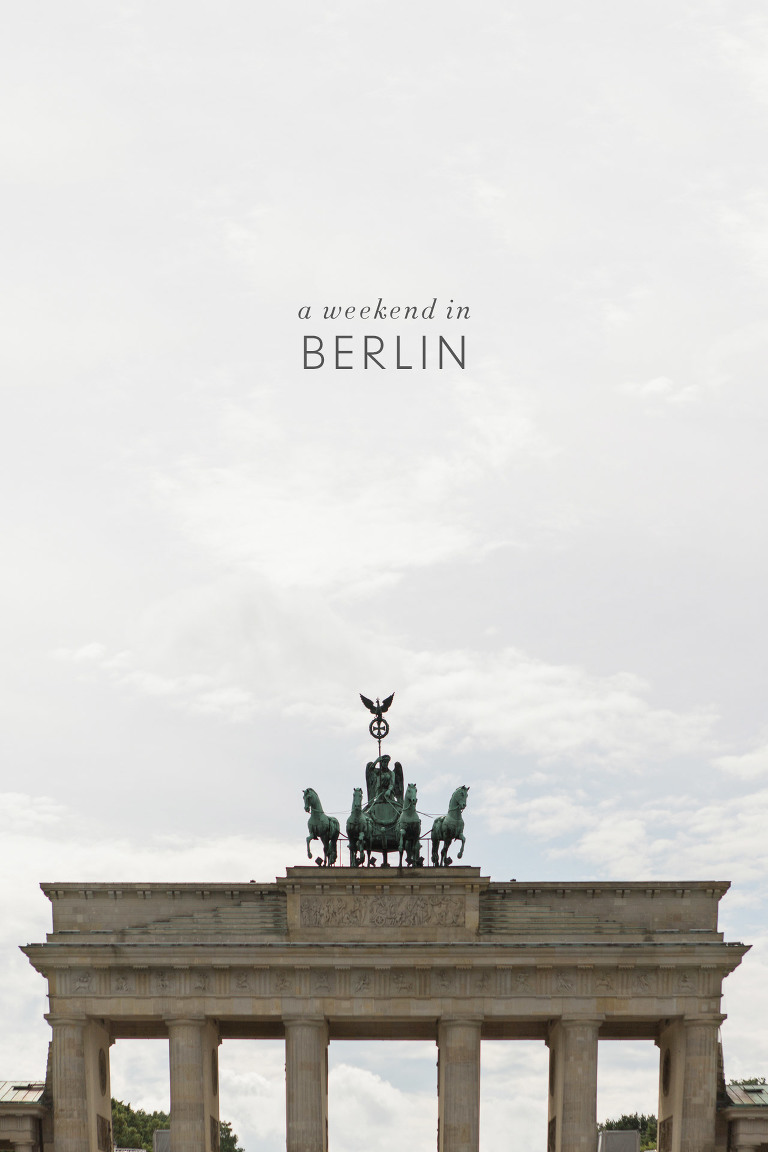 Berlin is the hip capital of Germany, with a very complicated history. Covered with colorful graffiti, filled with cool little shops and restaurants, and with enough museums to keep even the biggest history buff busy for days. I have always been intrigued by the story of the Berlin wall, so this has been at the top of my bucket list for ages. When my mom offered to watch the kids so that my husband and I could spend a weekend in Berlin, we jumped at the chance.
TRAVEL
Berlin is so easy to get to, with inexpensive direct flights from almost every city in Europe, making it the ideal weekend destination.
EAT
Nu  |  This hip Asian Fusion restaurant in Charlottenburg had a big screen tv with the soccer games on, which was great for us since we were there during Euro Cup and wanted to watch the Austria game. If you go, order the Nu special for 2!
Shiso Burger  |  Crispy potatoes on a skewer and burgers in unbelievably light buns. I had the ahi burger and I can't stop thinking about it.
Konnopke's Imbiss  |  Currywurst is the unofficial snack of Berlin, so I knew I needed to try it while we were there. There is a currywurst stand on nearly every corner, but rumor has it that Konnopke's Imbiss is the place to go, so that's where we went. I don't have anything to compare it to, but if the amount of people waiting in line there is any indication, this is definitely the best currywurst in Berlin.
Zeit Für Brot  |  Huge, gooey, warm cinnamon rolls. Enough said.
Restaurant am Steinplatz  |  I usually have a thing against eating in hotel restaurants. But on our last day we decided to grab lunch at the hotel restaurant rather than take our chances at the airport. We were so surprised by our meal, it was amazing!
SLEEP
Hotel Am Steinplatz  |  Hotel Am Steinplatz is housed in a gorgeous art nouveau building on a quiet corner near Tiergarten Park. Originally opened in 2013, the hotel was completely redone in 2013. With beautiful decor, a great restaurant, and super nice employees, we would definitely stay here again.
Check the latest prices on:  Booking  |  Hotels.com  |  Agoda
Read reviews on:  TripAdvisor
SEE & DO
The Berlin Wall  |  Start at the East Side Gallery, then follow the wall (or where the wall used to be) all the way to Checkpoint Charlie. It is a lovely walk through many different neighborhoods, but make sure you wear your comfy walking shoes! Take some time to explore the Mauermuseum at Checkpoint Charlie, which is filled with stories of escape attempts, and shows all of the different ways people were able to get out of East Berlin. Next, go across the street to The Wall Panorama, where you can see a life size (and eerily real) view of life at the wall. Finally, take the U-Bahn up to the Berlin Wall Memorial to see intact parts of the wall, along with artifacts from the death zone.
German Historical Museum  |  Covering the entirety of German history, this museum has so much more than WWII and the Berlin Wall. We read to allow 4 hours for your visit and that is not an exaggeration. While you are there, be sure to check out the rest of museum island, an UNESCO world heritage site.
Reichstag Building  |  The most amazing views of Berlin! Make a reservation online in advance, then take the self guided tour of the dome above the German Parliament Building. After touring the dome, you can walk next door and see the Brandenburg Gate, the symbol of a unified Berlin, and then continue on to the impressive Memorial to the Murdered Jews of Europe.
Berliner Fernsehturm  |  The highest tower in Germany, and an iconic symbol of the German capital, the Fernsehturm offers a 360 degree view of Berlin. There is also a bar and restaurant at the top, so you can stay as long as you want.
DDR Museum  |  An interactive museum showing what life was like in East Germany. This was fascinating! While you are there, cross the river and check out the Berlinerdom.
Mauerpark & Mauer Flohmarkt  |  Definitely the place to be on a Sunday afternoon, it was packed! I was really looking forward to the flea market, but unfortunately it was a bit of a disappointment. Lots of booths but most were pretty junky. The food selection was great, however.
SHOP
Manufactum  |  This just might be my new favorite store. A little bit of everything, including clothing, bed linens, kitchen items, garden furniture, wood toys, and even body products. Most items are made in Germany, and all are high quality and beautifully designed.
Voo Store  |  Designer clothes and shoes, along with a nicely curated collection of travel and coffee table books. This store is set back in a little courtyard off of the street, so it can be a little tricky to find if you aren't looking.
Walking the Cat  |  Cute, European kids clothes in a bright, white store on the corner.
Do You Read Me?  |  A whole bookstore filled with hundreds of different independent magazines. I could have stayed all day.
MORE
The Berlin Welcome Card  |  Berlin is huge! If you want to see more than just the neighborhood right around your hotel, you will need to use public transportation to get around. Fortunately the trains and trams in Berlin are really easy to use, and with the Berlin Welcome Card, very inexpensive. We used a Berlin Welcome Card for unlimited public transportation, and discounts at every single museum and attraction we visited. (VisitBerlin generously provided us with a Berlin Welcome Card for our trip, but all opinions are my own.)
Books to Read | Stasiland – A collection of true accounts of what life was like behind the Berlin Wall.
P.S. – More Travel Guides